Guest post: Thanks to our partnership with Leapgen, we're delighted to have contributions from their team of experts. Thank you to Gail Krieger for sharing her wealth of knowledge in the field of Digital Employee Experience.
What do you think of when you consider ROI for your HR Technology initiative? ROI is conventionally considered to be "Return on Investment" which is a financial model representing the ratio between net income over time and investment costs over time. In this model, a positive ROI represents the efficiency of the investment.

Your Guide To: Employee Experience Platforms (EXP)
Read Josh Bersin's report to learn more about the EXP market and it's future, what to look for in an EXP and how companies are using them to transform their employee experience. Read Now.

For an HR technology investment, this equation is missing some key ingredients, the people who will use the technology and continued optimization to meet their needs. While return on investment may be important, and it may take a large investment of money to purchase and deploy a technology that supports a process transformation, the technology is useless unless people adopt and use it and find that it continues to be relevant as workforce needs evolve.
Let us consider another way to measure your HR technology initiative success using ROI, only in this model, let's redefine ROI to mean Run, Optimize and Innovate. In this ROI model, you begin with your strategy which encompasses your vision for the new digital workforce experience. The strategy includes your definition of value and the underlying effort to achieve that strategy and vision within a timeframe. The next step is to deploy and implement HR capabilities, supported by the technology. The third and truly the most significant aspect of this model is to optimize your technology investment by continuing to release new capabilities using an agile model.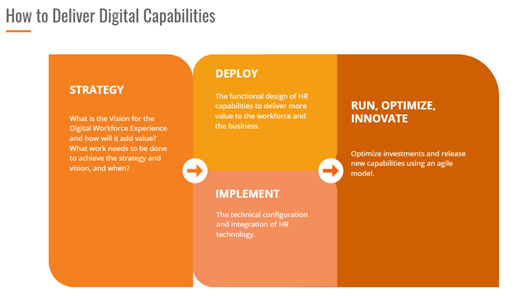 A Successful HR Technology Initiative Starts with the Strategy
A successful strategy considers the vision for your transformation which includes the promise to your customer. In other words, once the technology is deployed, how will your workforce be served and what benefits will they experience? This may include enabling your managers with Manager Self-Service interactions that let supervisors perform tasks without the help of an HR associate. These manager self-service activities are a positive employee experience when they are frictionless and reduce the time spent on HR tasks. Manager self-service interactions may include approvals of employee time-sheets, time-off requests, and employee job and compensation activities such as title changes, pay increases and transfers. Manager self-service also provides access to data such as compensation, performance information and attendance data.
Managers are more likely to adopt and embrace the technology if the technology was built with them in mind. A successful HR technology initiative considers what managers need, want and desire prior to building the processes and workflows. This can be achieved through the development of personas and journey maps. This is a dynamic process, and it does not end with the technology go-live. Manager needs will continue to change over time as the organization changes and business needs evolve. Continued focus on the manager experience ensures continued manager desire to utilize the technology.
Like manager self-service, an HR enabling technology must consider their largest customer, the workforce. Employee self-service allows employees to take care of a multitude of HR-related and job-related tasks that would otherwise need to be completed by an HR team member, such as requesting time off, designating emergency contacts or adding a new child to the health plan. Employee self-service is an essential aspect of any HR technology and the way to ensure your initiative is successful, the employee experience must be considered when designing processes to ensure adoption and engagement. Just as manager requirements change over time, your employee wants, desires and needs continue to change as the workforce, business and the world-at-large changes.
Successful HR Technology Adoption and Utilization includes Strategy, Deploy and ROI.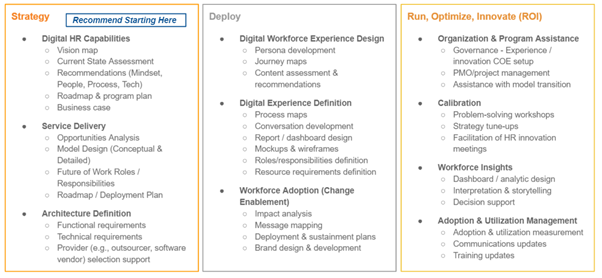 The employee experience factor cannot be under-rated. In Forrester's 2021 Total Economic Impact Report commissioned by Applaud, over 50% of HR leaders listed employee experience strategy and design as a high priority, with almost 40% planning to invest in workforce experience platforms.
Putting it all together
Your successful technology deployment is designed with a strategy that serves your workforce with the value and vision within a timeframe. It also must consider the employee experience and adoption through change enablement. Finally, the Run, Optimize, Innovate (ROI) is where the real value starts to emerge with continuous innovation, tune-ups, analytics, decision support and measurement that continue throughout the life of your technology enabling tool.
Prior to joining Leapgen, Gail began her career in Human Resources Operations in various industries including financial services, pharmaceutical, technology, retail, manufacturing and non-profits. Her passion for enabling efficient processes led her to system deployments including UKG, Ceridian, SAP SuccessFactors and Workday.


Gail holds a Bachelor's degree in Sociology from SUNY Oneonta as well as a Master's degree in Human Resources Management from NY Institute of Technology. Gail is a Certified Global Professional of Human Resources (GPHR) and is a Global Remuneration Professional (GRP). She is a Prosci Certified Professional and is Six Sigma Green Belt Certified.