Onboarding is a critical moment in the employee lifecycle. It's a candidate's first real impression of their life in your organization
For as long as there have been offices, onboarding has always been a face-to-face experience. Overnight, COVID-19 ended onboarding as we know it.
During this anxious time, your onboarding plan needs to be stronger than ever to attract and retain the best talent.
In this webinar discussed how you can make virtual onboarding a meaningful transition that gets your new recruits up to speed fast, and feeling like a member of the team.
Topics covered in the webinar
Learn how to build a virtual pre-boarding and onboarding program
How to plan for a new joiners first week
Ways to foster open communication whilst working remotely
The importance of a successful onboarding experience

for your business

How to leverage your current HR systems to support a virtual onboarding

Demo of Applaud system onboarding capability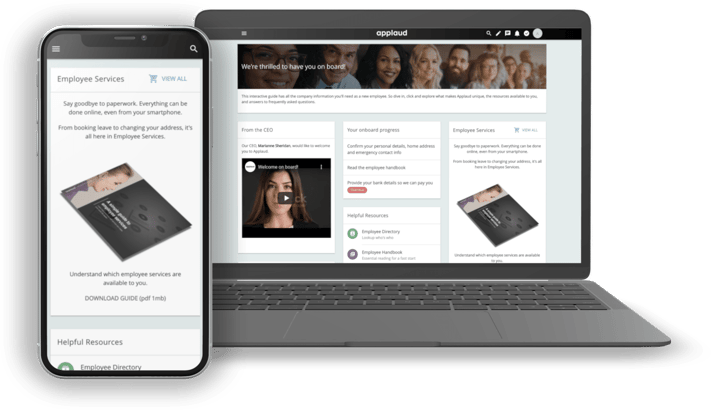 Figure 1: Onboarding interface
Why is onboarding important?
20% of new hires leave a job within the first 45 days after a bad onboarding experience.

Organizations with a strong onboarding process improve retention by 82%.

4% of new hires will leave a job after a bad first day.
By embracing virtual onboarding you can make the transition into your company a meaningful experience that leaves your new joiner motivated and equipped to take on their new role.
Getting this crucial part of the employee lifecycle right will demonstrate your organization's ability to remain employee-centric during trying times and will see you setting up your new joiners on a path to success.