What digital employee experience means, why it's more important than ever, and how to integrate it into your HR strategy.
What if 80% or more of your employees disappeared overnight? What would that mean for productivity? For customers? For profitability?
This disastrous scenario probably feels improbable. But many organizations are acting like that's exactly what's happened, by totally ignoring a huge chunk of workforce interactions.
Employee experience is a major focus area for most organizations — but a huge chunk of today's employee experiences are digital. Organizations must take the same measured, strategic approach to optimizing digital employee experience as they do the wider employee experience.
In this guide we'll show you how.
Keep reading to learn:
Let's go.
What is digital employee experience?
A subset of employee experience, digital employee experience (DEX) refers to your employees' experiences with the digital workplace environment.
Technology has a vast impact on how we work — positive and/or negative. DEX is a way of evaluating that impact and ensuring technology is a net plus for your workforce. One that:
Enables remote and hybrid productivity

Improves employee engagement

Improves customer experiences

Increases profitability
Digital employee experience is one of the hottest topics in HR right now (so you're in the right place!)
"By 2025, 50% of IT organizations will have a digital employee experience strategy, team, and management tool. This is a major increase from 5% in 2021."



- Gartner, Innovation Insight for the Digital Employee Experience (DEX)

Why digital employee experience is today's hottest HR topic
It's all about the pandemic, of course. Over the past few years, many businesses that were traditionally office-based have had to adapt to remote and hybrid work. This shift has been the catalyst for digital employee experience jumping to the top of the agenda.
1. The growth of the digital workplace
An obvious correlation to shifting workplace models is the need for new policies and digital technologies. Employees work together in new ways and face new challenges, which demands new tools. And although remote work is no longer the only option, there's little employee support for a return to old ways.
The Ultimate Guide to Virtual Onboarding:

Make onboarding a meaningful experience for remote employees. With templates, emails, checklists and agendas! Download now.

The upshot is, the digital experience is often a much larger chunk of the total workplace experience. Often it's the only workplace experience.
You might've gotten away with a heavy focus on in-person employee experience before. Today, ignoring the digital employee experience means ignoring many, if not most, of your people.
2. The growth of digital complexity
To rise to the challenges of new working models during COVID-19, organizations often turned to best-in-class point solutions providers.
The likes of:
Zoom for video conferencing.
Slack for communication.
Dropbox for storage.
Asana for project collaboration.
Harver for time tracking.
TeamViewer for remote desktop access.
Enboarder for remote onboarding, and so on.
But this approach brings its own challenges.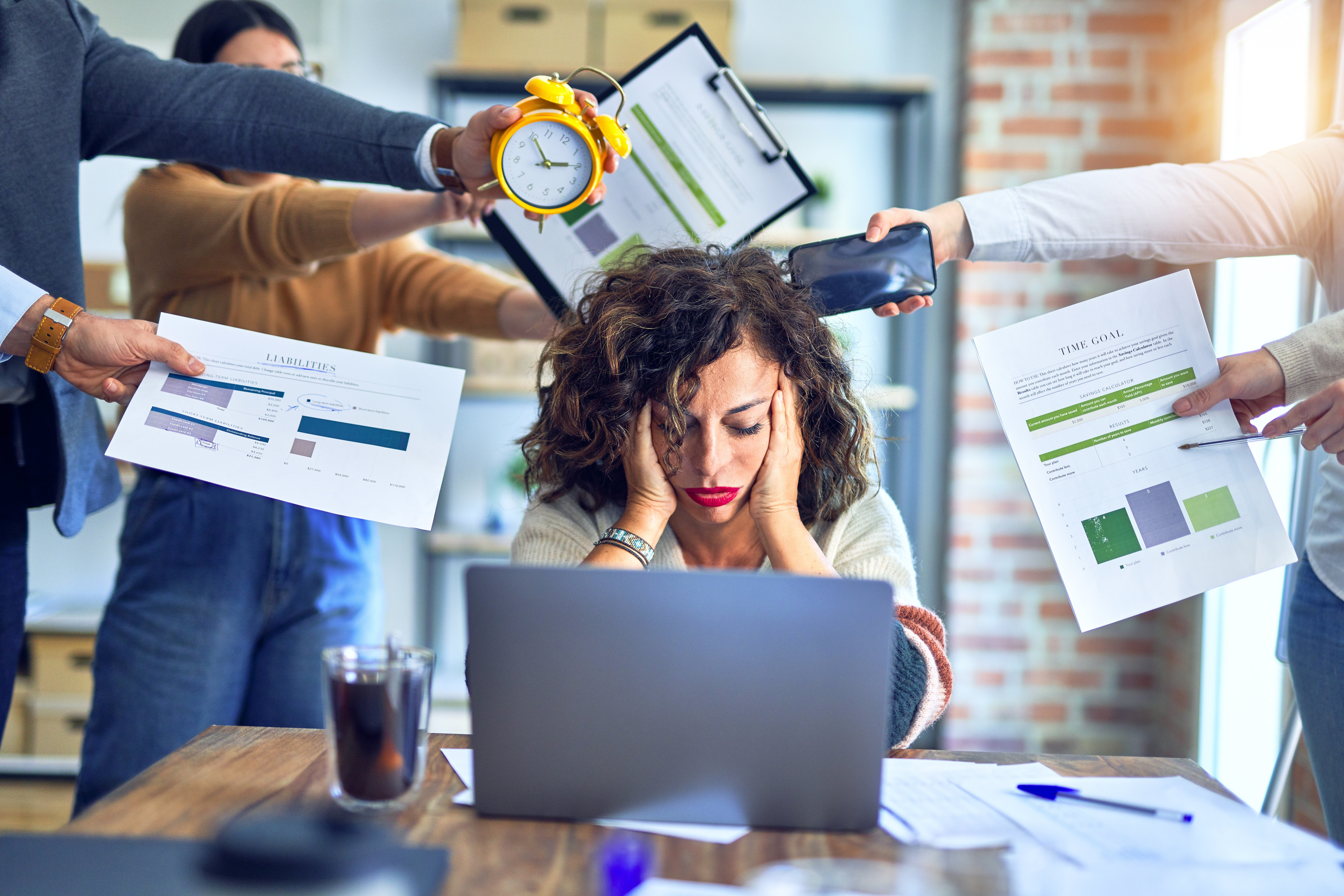 The technologies themselves aren't the problem. Many of these digital tools do much to improve the employee experience and increase productivity.
But as organizations' tech stack grows it becomes more convoluted and complex. And many of these products were added fast to meet an immediate need, without guidance from an overarching strategy. The result is a confusing mass of digital tools that together, make employees' lives harder, not simpler.
The growing focus on digital employee experience strategy is a recognition of the need to step back before striding forwards. To examine your digital technologies and policies, to ensure they're working together to streamline and optimize the employee experience.
Digital employee experience is getting so much attention right now because it's more important, difficult, and urgent than ever. And the organizations doing a great job stand to realize transformative benefits.
What are the benefits of a great digital employee experience?
Like the discipline of employee experience as a whole, digital employee experience offers various benefits that impact profitability.
Improve productivity
You invested in any given digital tool to help your people do a specific task. Like collaborate remotely, manage projects, give feedback, or a million other things. It's critical to understand whether each tool achieves that objective and optimize accordingly.
That's where digital employee experience comes in. A great DEX strategy helps you understand your current tech environment and determine which changes will maximize productivity. So you can build the right combination of digital tools that best suit the task at hand. To empower your people to be more productive.
Improve employee engagement
If digital employee experience is the relationship employees have with your digital workplace, employee engagement reflects the quality of that relationship. That is, great digital employee experiences drive greater employee engagement. And of course, the correlate is true: poor digital experiences cause low engagement.
That's a big deal because engagement links to heaps of positive business outcomes, like:
48% fewer safety incidents

41% fewer patient safety incidents

41% fewer quality incidents

37% lower absenteeism

28% less shrinkage

25% lower turnover

22% higher productivity

21% greater productivity
10% better customer ratings
Want more data-driven insights like this? Check out 15 HR statistics from 2022 to enhance employee experience in 2023.
Attract and retain talent
Attracting and keeping great people has always been a major challenge. And it's only becoming harder as employee's expectations change. Optimizing the digital employee experience means optimizing the full employee lifecycle from pre-hire onwards. Including touchpoints like your ATS, careers hub, and remote onboarding.
DEX means cementing a modern, clear, and engaging impression of your brand from the moment job applicants engage with you. An impression that continues throughout their tenure, through to offboarding.
Mitigate burnout
Our Digital Employee Experience Trends Report 2022 report found that burnout continues to be one of the major problems impacting the workforce right now. Recent data backs that up. 62% of UK workers have experienced burnout at least once in the past 12 months. One in five (21%) have experienced it consistently.
Your digital workplace environment isn't the only factor driving burnout—but it's a major contributor. Do your people feel they've got the right tools to do a great job? Does your digital environment make employees lives easier? Or are there constant roadblocks, frustrations, and workarounds that compound pressure and cause stress?
Getting your digital workplace experience right means providing a tech environment that streamlines and simplifies.
Consolidate costs
HR tech expenditure is already a major outlay for most organizations, and average HR tech spend is set to increase another 9% this year. Great HR technology pays for itself many times over. But often, organizations' HR tech stack is inefficiently put together, so you're paying more than you need.
Competing licences, overlapping functionality, redundancies — these things push your spend up. Implementing a digital employee experience strategy is an opportunity to step back and assess what's really driving ROI. So you can optimize for costs as well as your people.
Improve customer satisfaction
The oldest, truest cliché in the book is that happy employees make for happy customers. It's an important benefit to emphasise. When your people have the right tools and technologies to do their job effectively, the end customer benefits.
Workarounds, patches, and delays don't just impact your people's day-to-day digital workplace experience. They ladder into impact for customers, who don't get the products or services they expect, when they expect them. Optimizing your digital employee experience means optimizing your customer experience.
Who owns digital workplace experience?
Digital workplace experience or digital employee experience can be both an HR and an IT consideration. On one hand, HR is a natural leader for employee experience initiatives. On the other, IT is the natural owner of workplace software and technology.
This lack of clear ownership can cause problems, muddying the waters of accountability and causing budget bickering. What's really needed for progress on digital employee experience is a joined-up vision, strategy, and approach.
In some organizations there's a positive movement towards this, with a cross-functional digital transformation team sharing budgets and responsibility.
Read more: The architecture of experience — tying it all together
Some essential questions your digital employee experience strategy should answer
Digital employee experience refers to the relationship between your workforce and your technology landscape. A good digital employee experience strategy should interrogate that relationship by asking some key questions. Like:
What tools, devices, and applications do we use across the organization?
How well do these tools, devices, and apps perform?
What do employees like about them?
How do employees use them?
What technical issues do employees face and how can we solve them?
What frustrations do employees face and how can we solve them?
What fears or concerns do employees have and how can we address them?
What gaps are there where we might need new technology?
What redundancies are there where we could consolidate?
In essence, a digital employee experience strategy needs to understand several things:
Which digital tools do your people use throughout the employee lifecycle?
How do they use those digital tools?
How do they feel about them?
Are these tools effective?


With that information, you can identify improvement priorities and outline relevant actions. To create a more effective tech ecosystem that drives productivity and engagement.
For example:

Gartner's Innovation Insight for the Digital Employee Experience (DEX) found that employees often believe monitoring tools are used to spy on them. Employees may mistake engagement and sentiment-collection capabilities for spyware or a computer virus.

Does this hold true for your organization? If so your DEX approach should include a company-wide internal comms campaign to educate and manage perceptions.

Let's explore some best practices for getting started with digital employee experience.
Digital employee experience best practices
When you're starting to take a more rigorous approach to DEX, there are a few principles to guide faster progress.
1. Be collaborative
Your approach to digital employee experience will differ depending on factors like your organizational culture and progress on EX so far. That said, a collaborative, cross-functional approach typically yields faster progress than siloes. HR and IT leaders should both have a seat at the table here.
2. Focus on the end-to-end employee lifecycle
As we touched on above, the digital employee experience starts from the first moment a prospective employee interacts with you. Use design thinking to map out the employee journey, so you don't miss important touchpoints.
3. Collect real-time feedback
Real-time feedback is the best data you can get, because it's typically more honest, relevant, and contextual. Work with your IT team to integrate simple questions that pop-up while employees work. Like asking 'How easy-to-use do you find this tool?' when employees are actually using the tool.
4. Over-support managers
Managers are the lynchpins of the employee experience, as they'll be the main touchpoint for most employees. They're also the group who are carrying some of the biggest burden right now.
Work closely with managers to understand how you could better support them, automate their workload, and empower them to manage a remote or hybrid team.
5. Leverage HR automation
Interactions with HR are a big part of the employee experience — from requesting leave to checking payslips to asking questions. In many organizations though, even the most basic tasks are complex, disjointed, manual, and time-consuming.
Not to mention that HR workloads are set to increase by 9% this year, while HR budgets and HR headcount are decreasing. (0.2% and 0.4% respectively). Everyone's being asked to do more with less, putting even more pressure on already-stretched HR teams.
Read more: The 4 best Employee Experience Platforms in 2023
HR services, then, is a key candidate for digitization. Sensible HR automation empowers your people to seamlessly access what they need faster. And frees HR's bandwidth to provide better support. It's win/win.
6. Go mobile
Many organizations are working hard to close the chasm between consumer experiences and employee experiences. As momentum builds, not offering consumer-grade employee experiences is becoming a major competitive stumbling block.
One of the clearest ways that manifests is the growing trend of the mobile-first workplace. Over a quarter of respondents to our Digital Employee Experience Trends Report 2022 report said their HR services are consumer-grade and mobile-accessible, for example. 56% said it was on the roadmap.
7. Personalize
Best practice digital employee experience isn't generic but personalized. It leverages AI and real-time data to deliver more relevant content, product, and service information to every employee. As seamlessly as Netflix, Spotify, or Google does.
Read more: Creating a personalized experience by harnessing employee data
For example, say an employee is continually checking the internal job vacancy pages and reviewing training opportunities. You might send them an article on how to have a career progression conversation with their manager.
There's a real opportunity to differentiate here, because 63% of organizations don't personalize their digital employee experience at all.
8. Harness your data
To prove progress on DEX, and become a true strategic partner to the business, HR must provide incisive data-led workforce insights. For instance, answering questions like 'how does our onboarding process impact new hire retention?' and 'how does turnover differ between remote employees and hybrid employees?'.
Traditionally this has been challenging because data is siloed across heaps of different systems. A core part of DEX transformation is gathering and wrangling data that illuminates the organizations' biggest people challenges. And shows HR's impact in meaningful business terms.
(That's one of the things Applaud's customers love most about our workforce experience layer. Applaud ensures you get the right data the moment you need it, so you can easily identify priority areas for change. And prove your value.)
Final words…
The explosion of workplace technology brings a whole heap of advantages. But there are undeniable challenges too, as the digital employee experience gets increasingly fragmented.
A thoughtful approach to digital employee experience is critical to ensure your people get value from your tech investments. Otherwise, what's the point in having them?
Evaluate your digital employee experience and get a personalized report to guide future progress in our Digital Employee Experience Audit.
Applaud's workforce experience layer unlocks value from your existing HR tech stack, creating a single, seamless, best-in-class experience. Discover why organizations like McDonalds, McKinsey, and Barnardos trust us with a personalized demo.
Want the big picture on Digital Employee Experience?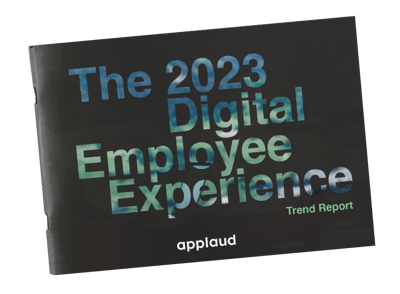 Download the full version of The 2023 DEX Trends Report, with insights from over 200 HR leaders, plus recommendations for the future.