We are excited to have recently hosted our first ever 2-day hackathon, an event open to both developer and non-developer Applaud employees.
The arrival of our latest mobile and desktop UIs, famed for their superb design and user experience, and this year's understated growth of Applaud Cloud and related platform services has been the culmination of several years intensive R&D. We've been leveraging our own cloud and platform to do quite a bit with Artificial Intelligence (AI) recently, so it was a natural choice for this year's theme.
The brief was to use Applaud Cloud to build something AI-related and then integrate that into our existing app. At the end of the 2 days, each team would demo their hacks to our team of panelists who would score each team against a set of criteria. Oh, and the rest of the entire company would also be tuning in for the show!
The event was a big success; and this is how it played out…
Spirits were high on the hackathon eve – the day the theme, a closely-guarded secret up to this point, was announced. You could feel the tension in our Hyderabad office, as teams huddled, whispered and schemed about turning ideas into reality. Months of planning boiled down to a competitive 2 working days – more accurately expressed as 1 continuous day of 30 hours!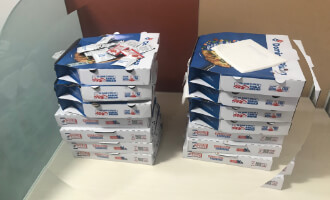 It was 3pm when we heard our first cheer, which turned out to be a brief exchange between two AI chatbots:
Bot 1 (soft British female accent): "Ask Applaud, am I due a pay-rise?"
Bot 2 (assertive American female accent): "No chance. Actually, you're fired."
Cue the first delivery of exquisite Southern Indian cuisine, a stack of Dominos pizzas complimented with non-diet coke!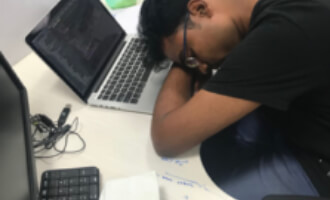 Day 2 (or day one continued for some of us!)
When I arrived on day 2, or rather hour 25, the teams were still going strong. It was clear that sleep was an unaffordable luxury (Vijay, pictured here, was faking it).
The relentless bashing of keyboards continued. With only a few hours remaining, you could start to see anxiousness turning to confidence. They'd all cracked it.
"15 minutes remaining", announced 15:30. Teams had already regrouped and were icing their demo cakes. At 15:45, all hacking stopped. Deep exhale.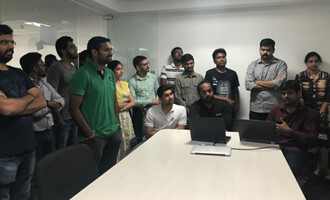 Stop… Demo time!
Each team spent 30 minutes carefully demoing their creations. We, the panelists, were utterly astonished by each team's achievements in just 30 hours, made even more impressive knowing that 48 hours earlier they had no idea what they would be building.
Neural network artificial intelligence, deep learning, voicebots, chatbots – all seamlessly integrated into Applaud's existing apps, front-ended with our signature polished UX (well done Steve!) and backed by Applaud Cloud. It was glorious and breathtaking.
After the final demo, it was time for the teams to take a well-deserved rest. The panelists, on the other hand, had the brutal job of scoring each team against multiple criteria, painstakingly reviewing every detail. It took lots of discussion and disagreement but eventually, the results were in.
The winner of Applaud's first AI hackathon was… team Joey, lead by Karthik Mohan and under the leadership of Hari Shankar. Karthik's team included Anji, Ganesh, Grandhi, Kumar, Rahul, Sowjanya, Srini, Vijay and Vinay.
It was a marginal win yet well-deserved. Their hack produced an incredibly versatile and beautiful-looking conversational HR chatbot that was able to answer hundreds of context-sensitive questions from employees, managers and candidates.
They narrowly beat the runner up who produced another amazing result: team Joanna, lead by Ramesh Kumar and made up of Mani, Raj, Sateesh, Shailesh, Sumanth, Surya, Tushar, Vasudha and Yugandhar.
Congratulations! We learnt a lot from this process, such as the importance of good question design and incorporating customer-driven Q&A. We will now start the lengthier process of building capability into our core products and using the winning's team hack as a foundation (without any hacks!). It's all great stuff and I'm really excited about the prospect of sharing more with our partners, customers and friends over the coming months.
My final thoughts are my top 5 hackathon recommendations for those wishing to run similar events internally:
Plan every detail well ahead of its start
Market the hell out of the event to promote interest
Keep it fun but gimmick-free
Keep it competitive
Offer a prize to the winning team
I'll be writing more about AI and its impact on HR in upcoming blogs, so stay tuned. If you want to see it in action, make sure you attend UKOUG Apps17 conference in December and tag along to our presentation slots on the 4th and 6th December.
Until then, happy hacking.
Keep up to date with the latest from Applaud in our news section and see what thought-leading outlets have to say about us on our press page.