The annual Oracle HR User Group (OHUG) is the biggest conference dedicated to Oracle's expanding HR Suite of products which includes PeopleSoft, Oracle E-Business Suite, Taleo, Cloud HCM and JD Edwards.
The conference is not run by Oracle but by a board of volunteers and targeted at end users rather than executives and buyers. It's much more down to earth and 'real world' than Oracle's own conferences such as Oracle Openworld and Oracle HCM World, which have a salesy feel about them.
This year's conference was held in Las Vegas and is our annual reference point for all things Oracle HR. It's a great place to hear about Oracle's future Roadmap as well as listening to how end users are feeling about their Oracle platform of choice right now.
Cloud Confidence
Attending an Oracle conference circa 2012-2016 was a frustrating and sometimes nauseating experience, with aggressive and exaggerated Cloud messaging intended to befuddle customers and put them off migrating to Workday.
Understandably, this wasn't popular with customers and there was a noticeable shift last year with a softer push from Oracle on Cloud HCM. This year, the soft sell is evident again with Oracle exuding confidence when talking about their latest release.
The reason is obvious: Oracle's Cloud HCM system is now much more competitive when compared to the market leaders, Workday. The latest User Experience is comparable (better in some areas, weaker in others), new feature functions are being released at pace and the subscription costs are cheaper (anecdotal evidence from customers pitched to by both companies suggest Cloud HCM is 75% cheaper than Workday). Oracle are no longer trying to sell an inferior product.
Got a PeopleSoft or E-Business Suite customer paying annual support? Great, revenue for Oracle, no need to pressure them into moving off that lucrative model. Thinking of moving to the Cloud? No problem, Oracle don't have that fear of losing to Workday any more. For incumbent customers, Oracle wins either way.
The amount of R&D Oracle has at their disposal gives them an advantage and a lot of new features were summarised in the keynote. Many of these we heard about last year: valuable new modules like an integrated HR Helpdesk were supported by boring but essential features like Collective Agreements, Grade Step Progression and Position Control. Cloud HCM still hasn't got quite all the features you'll find in something like Oracle EBS – and certainly hasn't got the customization or extensibility options – but it's getting close.
Overall, Oracle now has an air of confidence rather than desperation and seem less flustered about trying to convince the whole EBS or PSFT community to move on. Workday still retain a perception of being a superior product due to a decade of stellar customer feedback, top end user experience, clever marketing and analyst love-in. It will take a few years for that goodwill to reverse completely but their extended honeymoon appears to be coming to an end.
But it isn't all rosy for Oracle right now. Q4 results were decent but Oracle's decision to stop breaking down Cloud based income vs perpetual 'legacy' license income is a red flag to suggest things aren't going as well as Larry wants.
Is Taleo now an Oracle Legacy system?
Oracle presented a lot of fresh features in their Cloud keynote but the biggest is undoubtably their new Recruitment module. Oracle made a great purchase with Taleo and have been incredibly successful selling it onto their client base. But the challenge has always been Taleo was never an Oracle-built product and was always interfaced into Cloud HCM rather than integrated.
Oracle's new Recruitment module is a completely different product, built in the same Oracle tech stack as Cloud HCM and integrated wholly with Global HR, in the same way as Cloud Talent or Cloud Learning are. There are big advantages of having a recruitment module baked into your Core HR system such as having a single person record that tracks the employment lifecycle from candidature through to termination and onwards into rehire (maybe multiple times).
This architecture also opens up the often-troublesome area of Onboarding – the limbo between hire and start of employment where recruitment systems often stop and the lack of access to internal systems for non-employees thwart meaningful integration into Core HR. A new onboarding component is the centrepiece of Oracle's new module and provides the ability for pre-hires to log in, view their team, take learning (using Oracle's Cloud Learning module of course), enter the personal details, push through their bank details ready for first payroll etc. An important and exciting addition to Oracle's portfolio.
What does this mean for Taleo? Oracle will point to how Apps Unlimited has kept PeopleSoft and EBS customers happy. Everyone else will roll their eyes and accept the inevitable: In Oracle's eyes, Taleo is now a legacy product alongside PeopleSoft, E-Business Suite, JDE and the rest. Taleo customers need to keep an eye on Oracle's plans; just because you're in the Cloud doesn't mean you are current. You should certainly get educated fast if you are currently evaluating a Taleo purchase.
EBS & PeopleSoft in the Cloud
Customers aren't ripping out their EBS and Peoplesoft systems as fast as Oracle would like and year-on-year Cloud adoption is decelerating. The latest Sierra-Cedar survey reports that of the 24% of customers planning to move to a new Cloud based HR system, only 16% actually did. Only 7% plan to move in 2018. The pace of change is slowing.
Oracle has taken this on board and continues to strongly pitch the option of moving your on-premise systems into a Cloud based managed service, like Oracle Managed Cloud Service or Amazon Web Services. This approach is neat and starts to get regular Cloud-based income into Oracle without trying to convince a customer they must ditch their existing, stable, applications.
The E-Business Suite and PeopleSoft keynotes continued to evangelise the multiple options that Oracle provide, including 'Cloud@Customer' where Oracle manage the environment on your premise.
If you currently manage your Oracle software in-house, we'd recommend looking into a managed service option; it's a great way to reduce TCO but avoid the disruption of moving applications. You can read more on our thoughts in our new downloadable e-book here. But do be careful of Oracle's rather aggressive database licensing tactics and don't get caught out, you need to do your research.
E-Business Suite Roadmap
Talking of Apps Unlimited, what's going on in the glamorous world of on-premise? Well, bits and pieces. They've done a lot of great work in supporting the new GDPR legislation but otherwise, new features are thin on the ground. In the Cloud keynote, we got one slide dedicated to a brand-new product like HR Helpdesk; in the EBS Keynote we got one slide dedicated to a new List of Values on the 'Manager Hire' page.
Simply put, EBS is a system that doesn't need many more features – it still has more HR coverage than Cloud HCM – it just needs modernizing. Oracle announced more HR mobile apps but also confirmed there no plans at all to improve the end user experience past the smartphone; what you've got now is what you'll have until 2030+.
Oh yes, those de-support dates that are looming fast. No official communication on the next major release but a commitment from Oracle that EBS will be supported for the next 12 years at a minimum. Whether that is on a new release like 12.3 or a continuation of the 12.2.x timeline is unclear but what is certain is EBS has a support lifetime that will exceed most customers' long-term plans.
Oracle Soar
If you are subscribed to any sort of Oracle-related mailing list, you will have seen an announcement of Oracle Soar, a new way to 'automatically upgrade' from Oracle E-Business Suite, PeopleSoft or Hyperion to Cloud HCM (or Fusion as Larry Ellison quaintly continues to refer to the Cloud Suite, much to the annoyance of his marketing folks, I imagine). You can watch Larry announce it here.
Soar is Oracle's pitch at a smoother transition for your average 'rip and replace' project. That's important and relevant. Sadly, I think it's doomed to fade into obscurity based on the following observations:
It's a consulting solution, not a development solution. Therefore, it's not part of product; not built by the people who know the Oracle systems the best; not supported by Oracle.
It won't do what Larry's presentation say it will do. Anyone that's worked with EBS for more than one project knows that your customizations can't just be automatically upgraded to a different system or be replaced by a 'standard feature', for example. Sure, it might port over your people data and users but that's a big 'so what', most decent Oracle partners will have built up a library of tools to do this simple stuff already.
Moving to the Cloud is a great opportunity to sort out your tangle of job structures, positions and hierarchies as well as a chance to re-engineer your processes into 'best practice'. It's a key value proposition for 'rip and replace'. An automated upgrade simply moves bad data and processes from one place to another.
Killer Blow: it appears you must pay Oracle Consulting extra for this service. No harm in that except you try finding a non-Oracle Consulting partner who wants to give a slice of their Cloud implementation income away to Oracle. Oracle have had a long-term strategy in play to rely on partners to implement and evangelise Cloud HCM at the expense of building up an internal consulting team. It's worked well to this point. Without the support of the Oracle Partner Network, this one crumbles to dust. If Oracle opens up the toolkit to partners *or* makes it part of the standard product, this offering might stand a chance.
Oracle Soar was conspicuous by its absence from the OHUG conference with no mention of it in either the Cloud or EBS keynotes. The execs knew about it – we checked. I'll be writing more on Oracle Soar in a future blog but if you're in the market to 'rip and replace', treat this new offering with scepticism until it's more proven.
The continued rise of UXaaS
UXaaS is the new industry that's spawned over the last few years and delivers solutions that modernize on-premise and Cloud systems. Applaud offers such a solution for most Oracle systems and we'll be widening that offering to non-Oracle systems soon, so customers can enjoy a unified experience across all their HR platforms.
At this year's exhibition hall, for the first time ever there were more UXaaS vendors than implementation partners.
Demand for modernization (improved UX, mobile access, AI, analytics) is high for customers using systems like EBS and PeopleSoft but not ready for a rip and replace to Oracle's new Cloud offerings. Expect more solutions to come to market over the next few years; it's notable that more than one partner is now targeting Taleo due to Oracle's lack of investment in the product.
The demand here is ripe – if Oracle isn't going to invest in enhancing UX for their on-premise and legacy cloud solutions, then someone else will.
Cloud HCM UX
As a company dedicated to providing the best user experience possible to Oracle customers, I always take interest in the latest UX coming in Cloud HCM. So, imagine my surprise this year at walking into the exhibition center and seeing our Applaud UI being demoed on the Oracle booth!
It took me a few moments to realise I was looking at the latest Cloud HCM user interface which has, let's say, been 'inspired' from other products on the market.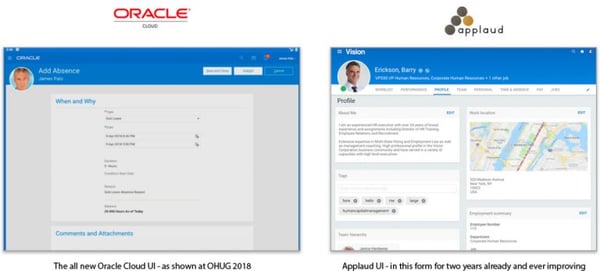 It's good to see that the Oracle User Experience team have been keeping an eye on the partner solutions out there and learning from the best they find! The new 'Newsfeed' UI shown above is available across a subset of Cloud HCM and complements the other 'Fusion Classic' screens that continue to be used for other functions.
This is the third major UI redesign we've seen in Cloud HCM: the 'Simplified UI' was released a few years ago but was not mobile friendly; newsfeed is responsive and so should work across all devices. Oracle are moving in the right direction here but need to be careful not to create a fragmented user experience; having three different user interface designs being used across the suite is not the unified experience most customers expect.
Looking outside the Oracle ecosystem, we've recently had opportunities to work with Workday hands-on and have been relatively underwhelmed by the user experience on offer once you venture past the initial landing pages. Where it's enabled, the new Cloud HCM Newsfeed UX is as strong as Workday's and no longer looks second best in terms of user experience.
Onto Forth Worth 2019
The Oracle HR User Group remains a valuable entry on the annual conference circuit. They continue to provide a healthy balance of education across all product lines whilst still providing insight into Oracle's current strategy.
I'd recommend the conference to anyone using one of Oracle's HR products; next year's conference is in Fort Worth, June 10th – June 12th.
Keep up to date with the latest from Applaud in our news section and see what thought-leading outlets have to say about us on our press page.