Take the next step in your career as an employee experience director. Read our guide to learn about typical salary range, job description and what qualities you need to thrive professionally in this emerging field.
What is Employee Experience (EX)?
Employee experience (often abbreviated as EX, or sometimes called people experience) is a catch-all term used to describe moments in the employee lifecycle. Someone who works within EX will generally be responsible for enhancing these moments and simplifying HR processes for both managers and workers.
As EX seeks to improve the working environment, this role sits within the Human Resources department. That said, those specializing in Digital EX may also work closely with shared services and IT teams, or with project managers when new HR Tech is being implemented.
Get stuck into our guide to understand more:
Director of Employee Experience:

Your Guide To: Employee Experience Platforms (EXP)
Read Josh Bersin's report to learn more about the EXP market and it's future, what to look for in an EXP and how companies are using them to transform their employee experience. Read Now.

The Rise of Employee Experience
Over the last few years, we've seen a shift in focus when it comes to workforce management. Off the back of the COVID-19 pandemic we've heard a variety of buzzwords and cliches being thrown around that reflect dissatisfaction in the workplace: 'quiet quitting' and 'The Great Resignation' being just a couple of them.
Unsurprisingly, data from Google Trends shows that interest in EX has never been higher, and has approximately doubled in the last 3 years:
Although the pandemic greatly affected the way people searched online, it's in the latter half of 2021 that we see a marked rise in interest in EX. Perhaps this is a response to increased clarity on the future of work post-pandemic, with remote work becoming normalized and the need for both virtual and hybrid processes. And of course, someone to take ownership of the experience program and monitor key EX KPIs.
This is also reflected in the growing number of openings for roles in Employee Experience. In February 2023, a search on LinkedIn's "Jobs" tab for "employee experience" in the US and UK returned over 26.5k results. Postings for "Director" level roles returned nearly 1,100 results.

On the US-version of job site Indeed, a search for "Employee experience" returned 778 jobs. At the time of writing 145 postings were for entry level roles, 364 for mid level and 127 for senior level positions.

Image from indeed.com
Let's take a look at what average salary those in director-level roles can expect and how you can excel.
Director of Employee Experience
Other job titles in a similar role could include:
Chief employee experience officer (CXO)

Head of people experience

People experience director

Employee Experience director

Employee Experience lead

Employee Experience program director
Job description
As a Director of Employee Experience, you would be responsible for overseeing the development and implementation of strategies to enhance the overall experience of employees at your organization. Some of the key responsibilities you can expect include:
Develop and Implement the Employee Experience Strategy:

As the Director of Employee Experience, you'll be tasked with creating and executing a comprehensive strategy to improve the overall experience of your organization's workforce. This could involve a variety of initiatives, such as enhancing the employee onboarding process, creating programs to promote employee wellness and engagement, and improving the overall workplace culture.




Collaborate with HR and Other Departments: A key part of this role is working with other departments within your organization to ensure that the employee experience is a top priority. You'll need to collaborate with HR to develop training and development programs, work with IT to ensure that employees have the technology and tools they need to do their jobs, and partner with senior leaders to align your employee experience strategy with the overall business objectives.
Measure and Analyze Employee Feedback: To improve EX, you need to understand what's working and what's not. This means gathering employee feedback through surveys, focus groups, and other means, and then analyzing the data to identify trends and areas for improvement. You'll need to be comfortable working with data and have the ability to use it to drive decision-making.

Build and Manage a Team:

As the Director of People Experience, you'll likely have a team of professionals reporting to you. This could include employee engagement specialists, training and development experts, and other professionals who are responsible for delivering the EX strategy. You'll need to hire, train, and manage this team to ensure they have the skills and resources they need to be successful.

Stay Current with Industry Trends: Employee experience is a constantly evolving area, so as the Director of Employee Experience, you'll need to stay up-to-date with the latest trends and best practices. This might involve attending conferences and networking events, reading industry publications, and participating in online communities.
Salary
According to Glassdoor the most likely range for a Director of EX is between $116k - $204k in the United States, with the average being $115,267 (correct as of February 2023).

Image from Glassdoor.com
Salaries in other countries may vary. For example, in the UK the average salary is reported on Glassdoor to be £42k annually, although for a director level role this seems a little low to us.
Qualities you'll need to succeed
As well as the typical skill set needed to thrive as a general HR Director, you will also need to be:
Tech-savvy:

These days technology plays an important role in enhancing EX, so you need to be comfortable with technical concepts and jargon that other departments or suppliers may throw at you. This is especially relevant if your company is trying to revolutionize or improve their existing HR Tech Stack with the end goal of better EX.

Empathetic:

Although emotional empathy is a must for any HR professional, it takes a different, more practical form in EX. Directors must be capable of putting themselves in their workforce's shoes to identify pain points at each part of the employee lifecycle. This includes onboarding, promotion, maternity leave and even offboarding.


In the webinar below, Applaud and Capita discuss how we can create a truly consumer-grade employee experience at every touchpoint in the employee journey that leads to a happier, more engaged, higher-performing workforce.
Data-driven:

People analytics are playing an increasing role in influencing future HR strategy and budgeting decisions. EX Directors need a handle on the key KPIs and the ability to extract that information from monitoring and analysis tools in various HR systems.
Autonomous and proactive:

In this senior role, you may not have the mentorship from a direct manager that you received in more junior positions. Consequently, you will need to be proactive about your own learning and development. This includes attending conferences and setting time aside to research and identify courses and certifications that can take you further, as well as benefit the company.
Companies will seek out the above qualities when hiring a CXO, but of course you'll be able to hone your skills on-the-job.
If you think you're ready to take on a director-level EX position, you can also take a look at our Professional Development content, which will give you everything from unmissable conferences in HR Tech to methods and metrics for keeping HR management efficient.
Want the big picture on Digital Employee Experience?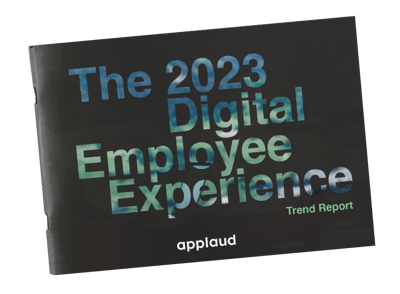 Download the full version of The 2023 DEX Trends Report, with insights from over 200 HR leaders, plus recommendations for the future.