What are the qualities of a good HR professional? And how can HR leaders optimize these traits to navigate the ever-changing workplace?
This guide highlights both personal and work-centric qualities that HR managers and directors need to develop if they want to go far and make an impact in their company. We then suggest some practical methods for maximizing your efficiency and effectiveness, as well as that of your team. Some of these suggestions can be actioned straight away, so read on and start optimizing today.
Bonus content - All about HR Shared Services: Benefits and best practices for large companies.
Chapters:
Personal qualities of a great HR Director / Leader
Although the following attributes come more naturally to certain personality types, these "soft skills" can also be honed and refined proactively.
People-centric
All HR professionals live and breathe people. They actively seek to improve the quality of employees' lives in the workplace. And they want to open a dialogue with them to understand how they can achieve that.
A quality HR Director should be an advocate for everyone, so leaders need extensive knowledge of equity and inclusion practices. Structured and formal training courses are a good base for this and the ever-changing socio political landscape means professionals should immerse themselves in more agile media as well - to keep abreast of social issues that may affect their employees.
What you can do:
Follow

podcasts

that address DEI in the world of work, such as

Why Care? by Nadia Nagamootoo

.
Read the latest news and thought leadership on the diversity and inclusion categories of HR outlets such as

HR World

and

Personnel Today

.
Keep up to date with current events so you are ready to support employees affected by issues like human rights and social justice.
Effective communicator
As an HR Leader you spend a large proportion of your time interacting with employees, your team and other stakeholders. Good communication skills are not only important, they are critical.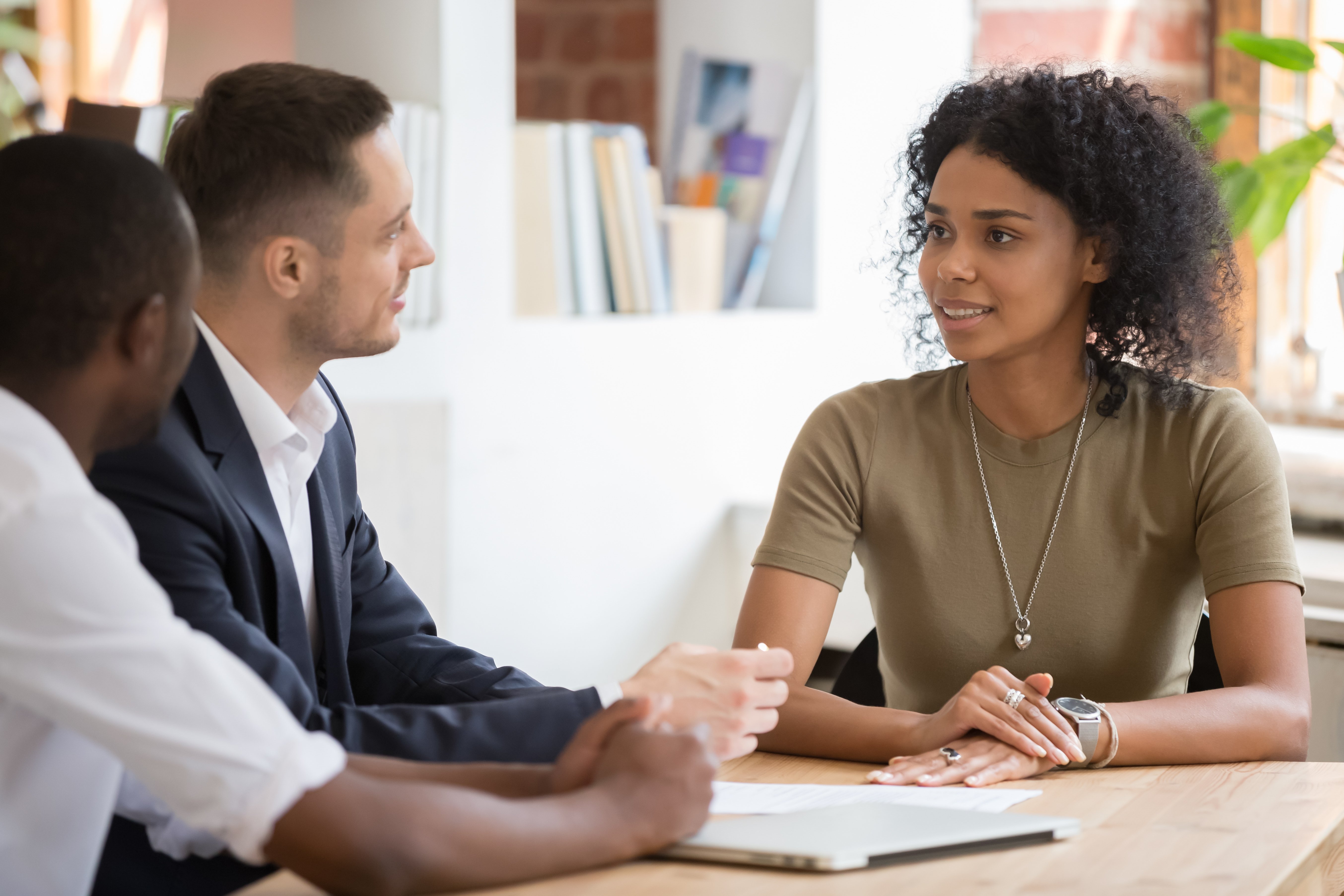 This goes beyond being easy to talk to or good at holding a conversation. Great HR leaders are also excellent and active listeners. Instead of simply hearing the words another person is saying, active listeners observe both verbal and non-verbal messages (for example body language) and then, only when these have been understood, provide thoughtful feedback. It switches the focus of listening from responding to understanding. This skill helps build trust, as the speaker feels validated and understood.
Any professional in HR also needs to be adept at communicating bad news in an empathetic and respectful manner. Some sensitive issues will demand careful navigation in order to fulfill the requirements of your role whilst remaining sensitive to employees.
What you can do:
Read content on active listening. A great starting point for this is Kate Murphy's "

You're Not Listening

".
Emotional Intelligence
As well as good communication skills, HR professionals (and especially directors) require the ability to read human behavior and foresee possible scenarios. They need to be able to motivate people to work together, even when they are in opposition with one another.
Although it's true that employees in all departments need to get along with other workers, this is particularly pertinent for professionals in human resources. Leaders, who are at a more senior stage of their career, should have a deep understanding of the different personality types they might encounter. This will equip you with the tools to best manage and earn the trust of employees - tailoring your approach based on what you know will resonate with them personally.
What you can do:
Gain a deep understanding of Myers & Briggs'

16 personality types

. Learn which you are and try to work out the personality type of key stakeholders you interact with regularly.
Trustworthiness
All of the previous attributes help to build trust with employees and this trust can make or break an HR leader. If employees believe your advocacy for them is only lip service, with your department only acting in the C-suite and senior management's best interests, relations between HR and the workforce will break down quickly.
Any head of HR must practice what they preach when it comes to business ethics. Allegations of corruption within HR, even if just speculation, can rip through the workforce like wildfire and create a culture of blame and suspicion.
As well as exemplary ethics, natural and decisive leadership will increase the workforce's trust in you. If you are seen as a "safe pair of hands", employees will more readily approach you with grievances or issues before they escalate. This saves you and your team time, making for efficient conflict resolution.
Work-centric qualities of a great HR Director / Leader
Many skills in the arsenal of a well-rounded human resources leader are acquired and refined on-the-job.
Efficiency
For the head of any department, time is precious. The last thing you need is hours spent bogged down in repetitive tasks that take you away from important elements of your job like strategy, conflict resolution and employee engagement. Good HR leaders know how to delegate and automate tasks so that they are working at maximum efficiency on the things where their input is critical.
If the pandemic taught us anything, it's that flexibility is a crucial arm of efficiency. When the goalposts change you need to adapt and stay cool under the extra pressure this might cause.
What you can do:
Think about the more tedious elements of your job that could be automated (for example, during the employee

onboarding

process).
Mindfulness is a great practice for controlling stress in uncertain situations. There are a number of apps available with free guided meditations such as

Headspace

and

Insight Timer

.
Proactively up-to-date with HR Tech

Over the last two decades the HR Tech market has exploded, with the global market for this valued at USD 22.90 billion in 2021 (Fortune Business Insights). Awareness of the technology available helps empower you when trying to solve the problems your company is facing. Seasoned HR professionals are also able to compare providers offering the same solution in an impartial manner, whilst never losing sight of key business objectives.
What you can do:
Critical thinking
Conflicts and grievances brought to the HR department by employees can be emotional in nature. So leaders must have the capacity to step back and observe situations externally to fully evaluate them, without bias. Consciously giving yourself space to critically think through these scenarios allows you to analyze the facts and form a rational judgment.
Needless to say, your emotional intelligence should also play a role here too. Whatever course of action you decide to take, this must be communicated empathetically with the involved parties to avoid further escalation.
What you can do:
Listen to the CIPD Podcast episode on Critical Thinking

here

.
The Art of Thinking Clearly by Rolf Dobelli outlines 99 examples of critical thinking, with examples. It's a good starting point for anyone looking to improve their decision-making skills and understand human behavior.
Tools and techniques to develop your HR leadership skills
Here are some specific suggestions you can action now to immediately enhance your profile as an HR director and streamline your workload.
Stacking meetings intelligently
Chaotic calendars can prolong decision-making and leave little time for your deeper work projects. Efficiency gurus Superhuman suggest staggering your calendar. As an HR Director this might mean you have all of your 1 to 1 meetings with each member of your team on Monday, a team meeting on Tuesday and your meeting with senior management (C-Suite etc) later on in the week.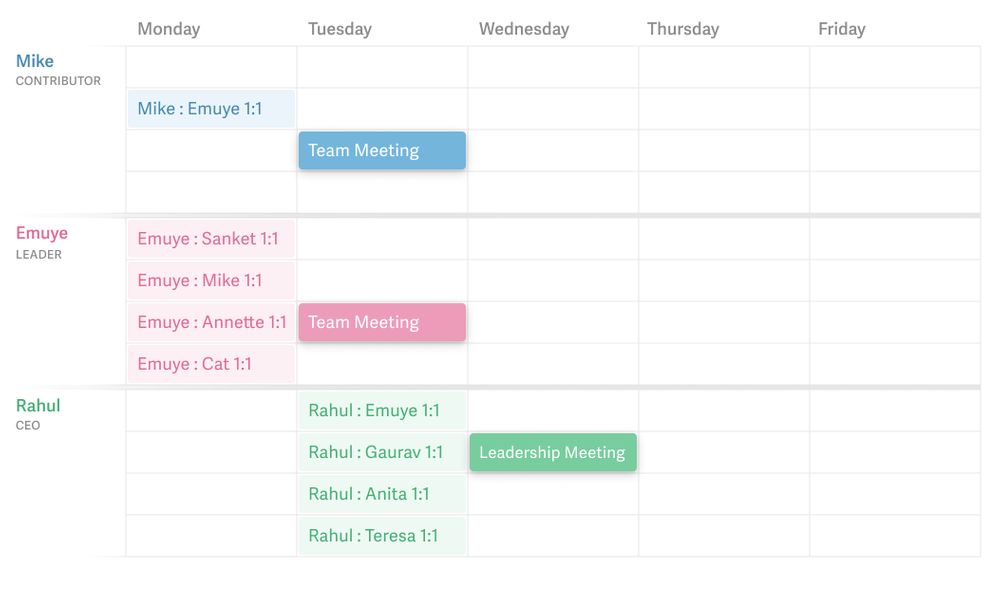 Image from Superhuman
Why is this effective?
Members of your team can highlight issues in the 1 to 1 meetings.
These can be discussed and or resolved in the team meeting the next day, along with a review of ongoing company-wide progress.
If needed, any problems that remain unresolved can be raised in the senior management meeting. You can also provide an update on what issues were raised this week and how you resolved them.
This also frees up a lot of time for you, which allows you to operate even more efficiently.
Personalization
Less than 13% of organizations offer any sort of personalized digital employee experience. Blanket "Send to all" communications, especially from human resources, rarely resonate with employees and can often be an enormous waste of you - and your team's - time.
Tailor communications where you can. There are plenty of tools that can help you do this, including Hubspot and Mailchimp. This might be as simple as using first names in subject lines or even adapting the content of emails based on the department an employee sits in. A little goes a long way towards increasing engagement with your workforce.
Learn from marketing
Marketing teams are obsessed with their customers. They want to know what makes them tick, what their pain points are and where they spend time online. This should be how HR thinks about employees.
Employees are having consumer-grade experiences every day on platforms like Netflix and Spotify - but when they come to work do they get the same treatment? A disorganized HR Tech ecosystem makes basic tasks like requesting leave or asking a simple question arduous. Think about how HR can add value to the employees and enhance their experience. If you're feeling a little lost on how to do this we recommend you have a read of HR-superstar Josh Bersin's recent report on Digital Employee Experience platforms. These types of solutions can supercharge your DEX and save your HR team a lot of time.
Want the big picture on Digital Employee Experience?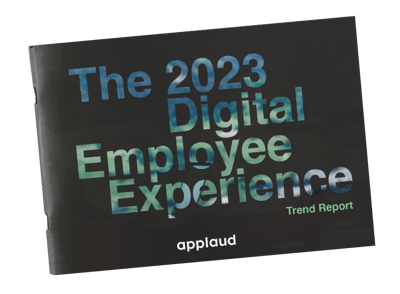 Download the full version of The 2023 DEX Trends Report, with insights from over 200 HR leaders, plus recommendations for the future.