To recruit and retain top performers in today's competitive job market, businesses know they need to step up. Research by Gartner found that more than 90% of HR leaders are concerned about rising turnover rates in 2022. Two-thirds of the HR professionals they surveyed were responding to the challenge by prioritising operational excellence - making the workplace more engaging by empowering employees with the tools and training to do their best work.
With the ongoing shift towards hybrid and remote work, operational excellence depends on creating a seamless, unified digital workspace. A report by Citrix found that, in the post-pandemic landscape, the employee experience will require a far closer alignment between IT and HR, to create a consumer-grade user experience for every employee.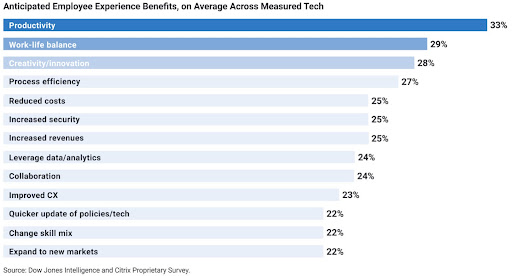 When we think about building a world-class digital employee experience, many of us think of employee development platforms - tools for learning and development, online collaboration, or performance management. However, we'd argue that integrating HR and payroll systems might have an even bigger impact on your organization.
Keep reading to learn:
Integrated HR and payroll systems: The benefits
An integrated HR and payroll solution can improve everything from the employee experience to the bottom line. Here are just a few of the critical benefits of integrating your human resources and finance platforms:
1. Better employee experience
According to HR industry thought leader Josh Bersin, "Employee experience is now the core of HR technology." In a recent blog post, Bersin argued that the payroll platform was previously seen as the foundational technology for HR, with other tools (like a learning management system or performance management platform) layered on top. Today, Bersin believes that it is the employee experience, and not the HCM platform, that forms the true foundation of HR tech.

Your Guide To: Employee Experience Platforms (EXP)
Read Josh Bersin's report to learn more about the EXP market and it's future, what to look for in an EXP and how companies are using them to transform their employee experience. Read Now.

Therefore, the key to building a future-proof HR tech stack is to draw on the principles of human-centered design. The goal is to offer solutions that will provide a consumer-grade experience to your employees. This means integrating your HR and finance systems, to make sure that you can get information to your employees more quickly. You should also consider adding an employee portal, so that employees can easily access and self-serve the information they need, view their payroll history, pick up necessary tax documentation and check their records for accuracy.
2. Increased operational efficiency
If your HR and finance teams are working with siloed systems, then your payroll process is generating unnecessary administrative tasks, wasting hours of time that your staff could be spending on far more valuable work. Double data entry and manual processing tasks are tedious, frustrating, and more likely to result in errors or compliance issues. A single, unified HR and payroll platform will cut back dramatically on administrative tasks. Given that the average HR professional spends up to 5 hours a day on admin, this seems like a welcome development!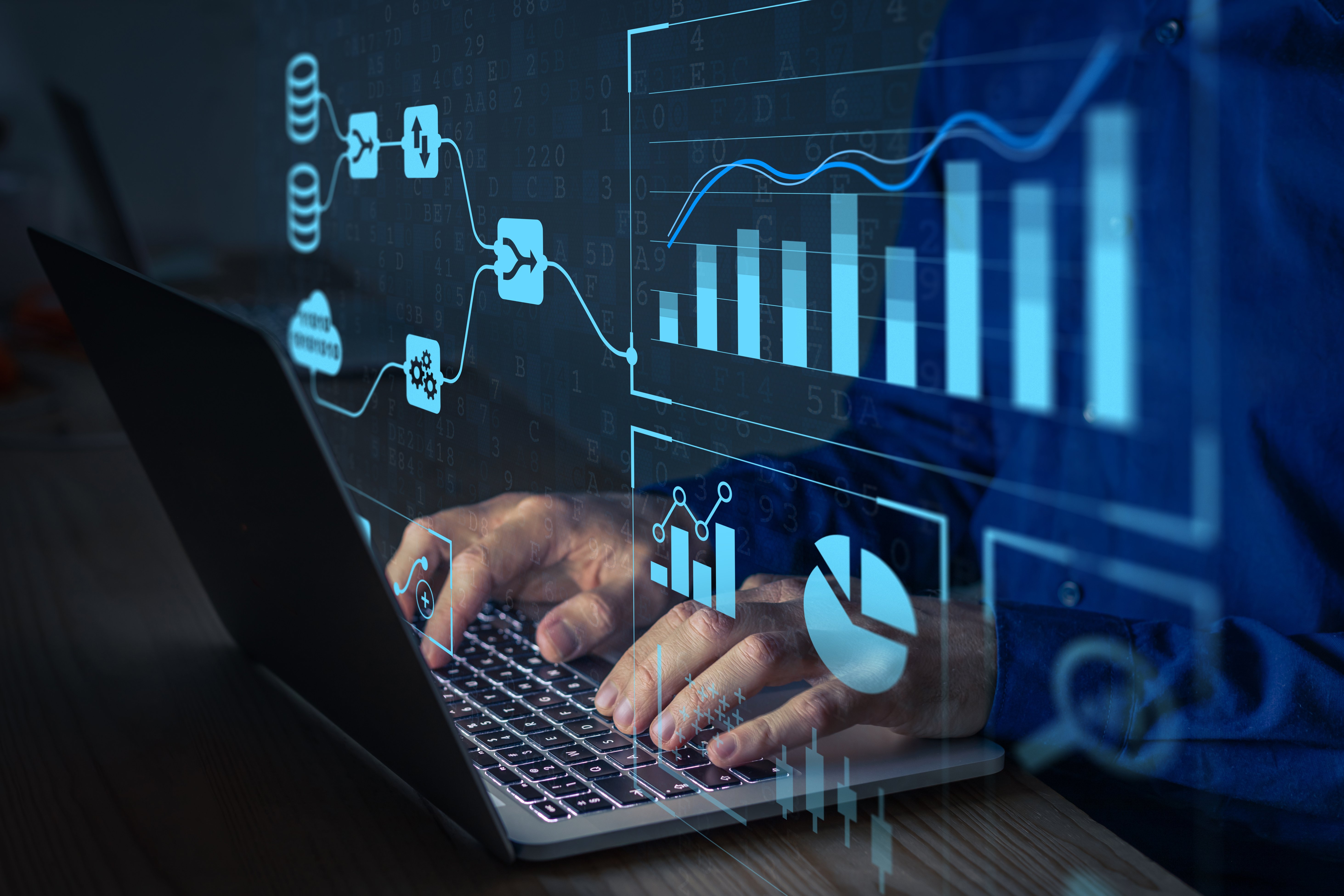 3. Improved HR strategy
Running multiple HR and finance systems makes it far harder for HR to run reports and analyze core data. To create a truly data-driven People Operations strategy, HR leaders need to be able to keep a close eye on where their budget is going, and monitor the impact of workforce planning decisions on payroll outcomes. By unifying HR and finance systems, you empower People and Finance leaders to have more meaningful strategic discussions based on shared, easy-to-access data.
You also build a more valuable HR function: research consistently shows a strong correlation between HR analytics and higher organizational performance. However, a study published in the International Journal on Emerging Technologies noted that, in order to provide strategic value with data analytics, the HR function requires "a robust IT infrastructure that can lead to better decision making. Organizations must be mindful of the need to improve HR analytics capabilities and of the fact that this will require further investment in HR technologies." In other words, for HR to provide real strategic value, companies need to build a unified, comprehensive HR solution that allows for robust HR analytics.
Identifying and addressing key business challenges
Unifying your HR and payroll services also ensures that you can identify and address company-level cultural issues. By giving your People leadership access to a 360-degree overview of employee data, you can more easily spot trends and concerns, like pay inequity, that could compromise your company culture or undermine your efforts to improve diversity, equity, and inclusivity in your organisation.
DE&I efforts aren't only key for improving your company culture - they're also vital for employee retention. Research published by MIT revealed that companies that permit non-inclusive and unfair business practices are far more likely to lose their employees during the ongoing Great Resignation. Ensuring that your compensation strategies are fair and equitable is key to promoting a positive employer brand and retaining your talent - and this level of analysis requires a fully integrated HR and payroll system.
HR and payroll integration: The challenges and how to solve them
You may well be convinced that integrating your HR and payroll systems would make your lives easier and add major business benefits. However, you may also feel daunted by the obstacles that lie in the way. Many companies would like to upgrade their siloed, complex HR technology stack for a simplified, user-friendly solution, but dread the cost, upheaval, and downtime triggered by such a potentially major digital transformation. The biggest challenges for most organizations include:
Challenge #1: Legacy HR software
Businesses are often reluctant to abandon legacy HR solutions, especially if they've invested heavily in the technology over the years. 3 out of 4 US employees describe themselves as "frustrated" by the legacy HR systems they use at work; as many as 82% were still obliged to use manual, paper-based processes for HR tasks. Even if the costs of continuing to use outdated software are clear, transitioning to a new system may be seen as too expensive, time-consuming, or stressful.
How to solve it: To create an integrated, user-friendly HR and payroll system, you don't need to throw out your whole legacy HR stack and start again. A dramatic, "start from scratch" approach is likely to meet with heavy resistance, and with good reason.
Instead, shift your focus away from replacing existing solutions, and towards making the platforms you already have work better together. A solution like Applaud HR lets you unite your existing data and knowledge sources so you can bring all your services and tasks into one place. By adding a workplace experience layer, you can connect your core HR and talent systems of record (such as SAP, Workday, Oracle, Cornerstone & Taleo), into a single, unified source of employee information.
"What is really cool about Applaud is that it's designed to be an easy-to-use creator platform. So you can, (not as an IT engineer but really as a HR person) build workflows for various use-cases that work on top of existing HR applications."

- Josh Bersin, Leading Industry Expert and Founder of Josh Bersin Academy

Take a look at the video below to get Bersin's full take on Applaud:
Challenge #2: Departmental siloes
You can't fix what you don't see. If your HR and finance teams work in information siloes, a great deal of useful data may simply remain unseen. What's more, creating a single unified system that is used by two different departments, with distinct ways of working, objectives, and performance indicators, can be highly complex.
How to solve it: While your HR and finance teams may well have different priorities, in the end, they have a shared goal in mind - a thriving, successful, and profitable business. By establishing a clear North Star metric for your company, and then assigning departmental objectives that align with your overall goals, you will reduce much of the friction between departments.
In addition, adding a technology layer that increases compatibility between data sets makes it easy to build automated workflows that enable information to flow smoothly between departments. For instance, Applaud's workflow builder is designed to automate approvals, tasks, and activities across teams and systems, thus reducing information siloes and making work flow more smoothly.
Even better, by making it easy for employees to access their own data with a user-friendly portal, Applaud will reduce the number of employee information requests and cut down on data re-entry for both HR and finance professionals alike.
Finally, a no-code, low-hassle solution to HR and finance integration.
Your workforce deserves workplace technology that serves them. Your HR and finance teams deserve to spend their time on high-impact work, not tedious data entry. Applaud makes it easy for you to build a one-stop-shop for all your HR services, reigniting the HR technology you already have instead of replacing it. The time has come to create the workforce experience your employees have been waiting for. Book a demo of Applaud today.
Want the big picture on Digital Employee Experience?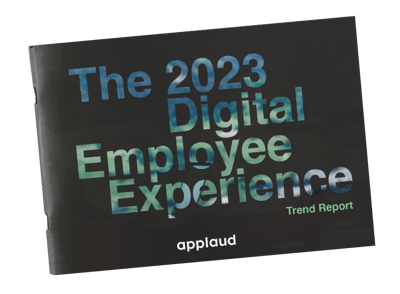 Download the full version of The 2023 DEX Trends Report, with insights from over 200 HR leaders, plus recommendations for the future.