Choosing the right Employee Experience Platform (EXP) is foundational to the success of your business. This guide compares two of the most top-rated EXPs — Applaud and ServiceNow — to help you choose the right platform that's right for you.

Ready to see Applaud in action? Talk to Sales.
Chapters
Overview
Whilst the red-hot Employee Experience Platform market is exploding with new options, Applaud and ServiceNow are consistently rated as the top EXP platforms. Both providers offer large enterprises a powerful toolkit that underpins employee experience improvement.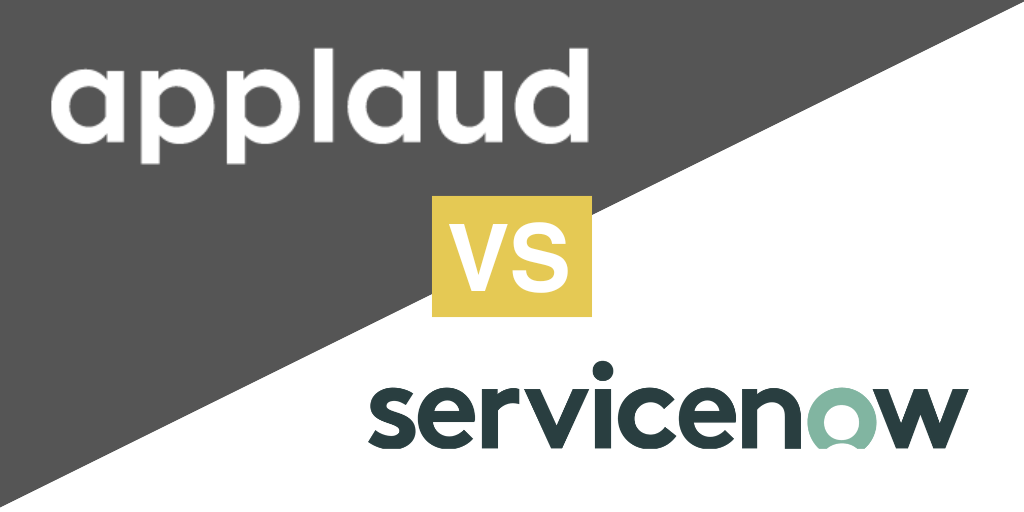 All leading EXPs require core capabilities, including: portals, workflow and automation, integration, journeys, nudges, user-friendliness, robust data collection and analytics, and personalization. Learn more about Employee Experience Platforms here.
However, the differences start to emerge when you look at how both Applaud and ServiceNow were built, and how that foundation contributes to employee experience redesign that's fast, impactful and consumer-grade.
This guide will help you understand the differences between Applaud and ServiceNow so you can choose the right EXP to enable agile and iterative employee experience redesign.

Your Guide To: Employee Experience Platforms (EXP)
Read Josh Bersin's report to learn more about the EXP market and it's future, what to look for in an EXP and how companies are using them to transform their employee experience. Read Now.

What does Applaud do?
Applaud is a cloud-native Employee Experience Platform that helps HR and business leaders from enterprise organizations measure and enhance employee experience, which saves time, drives efficiencies, and delivers a real ROI.
It's a no-code, agile, consumer-grade platform with a template marketplace of drag-and-drop use cases that cover the end-to-end employee lifecycle. Its three main components include a content-management system, an automation engine and an integration layer, which together empower HR to create unified digital experiences that simplify work and improve workplace productivity.
You can see a summary of Applaud in the webinar below, where Josh Bersin explores the booming EXP market.
What does ServiceNow do?
ServiceNow is principally a provider of IT Service Management software (ITSM) but has expanded this over time with multiple product lines and applications that have been built both internally and through acquisition.
Of particular relevance here is ServiceNow's HR Service Delivery product, designed for HR Operations and Shared Service Centers to create a tier zero that includes a portal, knowledge base, service desk and case management. This has been extended further in recent years to include workflows for onboarding and several other employee journeys.
Because of the above, ServiceNow may present a more complex experience with a steeper learning curve and may require more IT resources or budget.
Pricing
Applaud offers a single product – their EXP – and uses subscription per-user-per-month pricing with tiering that scales with a customer's growth. Deployment fees vary, and customers have the choice of using Applaud directly or working with one of Applaud's certified deployment partners. There are a small number of bolt-ons available for purchase in addition to the base platform fees.
ServiceNow sells multiple products and product lines, so navigating the products you need and understanding pricing can be frustrating. The HR Service Delivery product is available at different tiers (eg, Professional, Enterprise) and is sold under an "HR User" per-user-per-month subscription model. You will likely also need additional employee workflow products, and may include Employee Workflow Starter (per-user-per month), Employee Center Professional (per-user-per-month), and Employee Document Management (sold as a % of HR annual contract value). Other ServiceNow platform workflow products might also be needed for your use-cases, such as their Automation Engine, Integration Hub, Mobile Publishing and App Engine products. Deployment fees are also variable and there are multiple partners available. Due to reasons outlined further below, you may find that ServiceNow is costly to deploy and operate.
Platform capabilities
Both Applaud and ServiceNow provide cloud platforms built for the global enterprise and include core foundation features that meet strict security and data privacy, internationalization, and accessibility standards.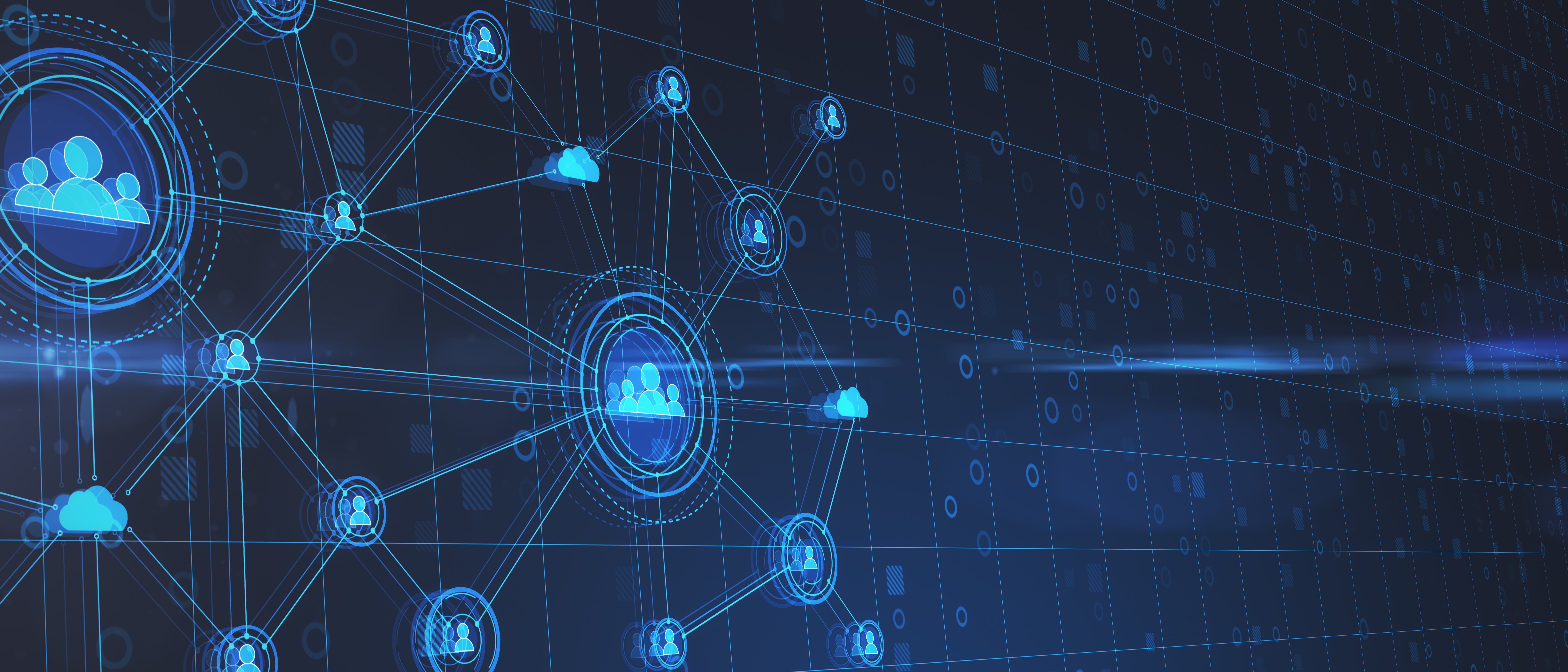 On both platforms, you can build custom applications that address many different use cases and can work across multiple devices and channels. You can automate processes, digitally transform, and unite multiple back-end apps. When you start digging deeper, however, you begin to learn how the two platforms diverge.
Applaud is a no-code platform built to solve employee experience pain points and can be deployed using HRIS with fewer IT resources. No code means you can build complete applications that work on any device using drag-and-drop interfaces and without writing any code. This makes it faster and easier to deploy, and faster and easier to make ongoing improvements. All of Applaud's building blocks, from content management, object creation, and workflow design to complex integrations, can be built in no-code.
ServiceNow is designed and built to meet service delivery needs over employee experience, and this heritage is inherent throughout with leading case management capabilities. It's a low-code platform with some no-code components (such as its Creator Workflows). Low code means that at some point it will require a level of coding to get full functionality, unlike no-code that requires no software engineers. As such, you may find that ServiceNow requires more technical IT resources, a bigger team and that projects may take longer and are more costly to deploy. This may lead to a higher ongoing total cost of ownership with more maintenance and slower post-deployment innovation.
HR-friendliness
The correct owner of employee experience redesign is a topic of some debate; the reality today is that most large organizations view this as, primarily, an HR responsibility. We believe that better outcomes are delivered when HR and business leaders co-own experience improvement and hope that this changes in coming years.
Regardless, HR clearly plays a critical role in employee experience – both today and in the future. A good EXP will have dedicated tooling that's easy to use and empowers HR to innovate fast in an agile, iterative process, and without IT dependency.
As a dedicated EXP platform, it's unsurprising that Applaud is usually purchased to improve the digital employee experience. It's breadth of templates cover the end-to-end employee lifecycle, including portals, knowledge and tier zero, journeys (preboarding, onboarding, offboarding, becoming a manager, global transfers), nudges, digital HR services (benefits, wellness, time off, volunteering, pay, etc) and broader EX templates that cover vertical and horizontal needs. It's unashamedly focussed on creating value for the employee consumer over and above all else.
ServiceNow is usually owned and controlled by IT, and is often first deployed as an ITSM use-case. IT teams will deploy case management to help with the management of equipment, systems access and other IT activities (eg, network & firewall changes). This is often fronted with a knowledge base or portal to help employees self-service frequently-asked questions and find information. This IT estate is then sometimes extended to include HR service delivery, providing HR with their own service desk and knowledge base that can host HR policies and knowledge. Employee experience initiatives in ServiceNow usually come in the form of deploying journeys and more often than not onboarding.
User experience (UX)
We're strong believers in a consumer-grade user experience. A good user experience can delight users, create frictionless digital experiences and boost productivity. Having said that, user experience improvements are unlikely to move the employee experience dial. Factors that influence an employee's experience are their relationship with their manager and co-workers, meaningful work, a sense of belonging, and the value they bring to your organization. So whilst user experience absolutely matters, it's important to weigh the impact and return of UX improvement vs the opportunity cost of other EX improvement.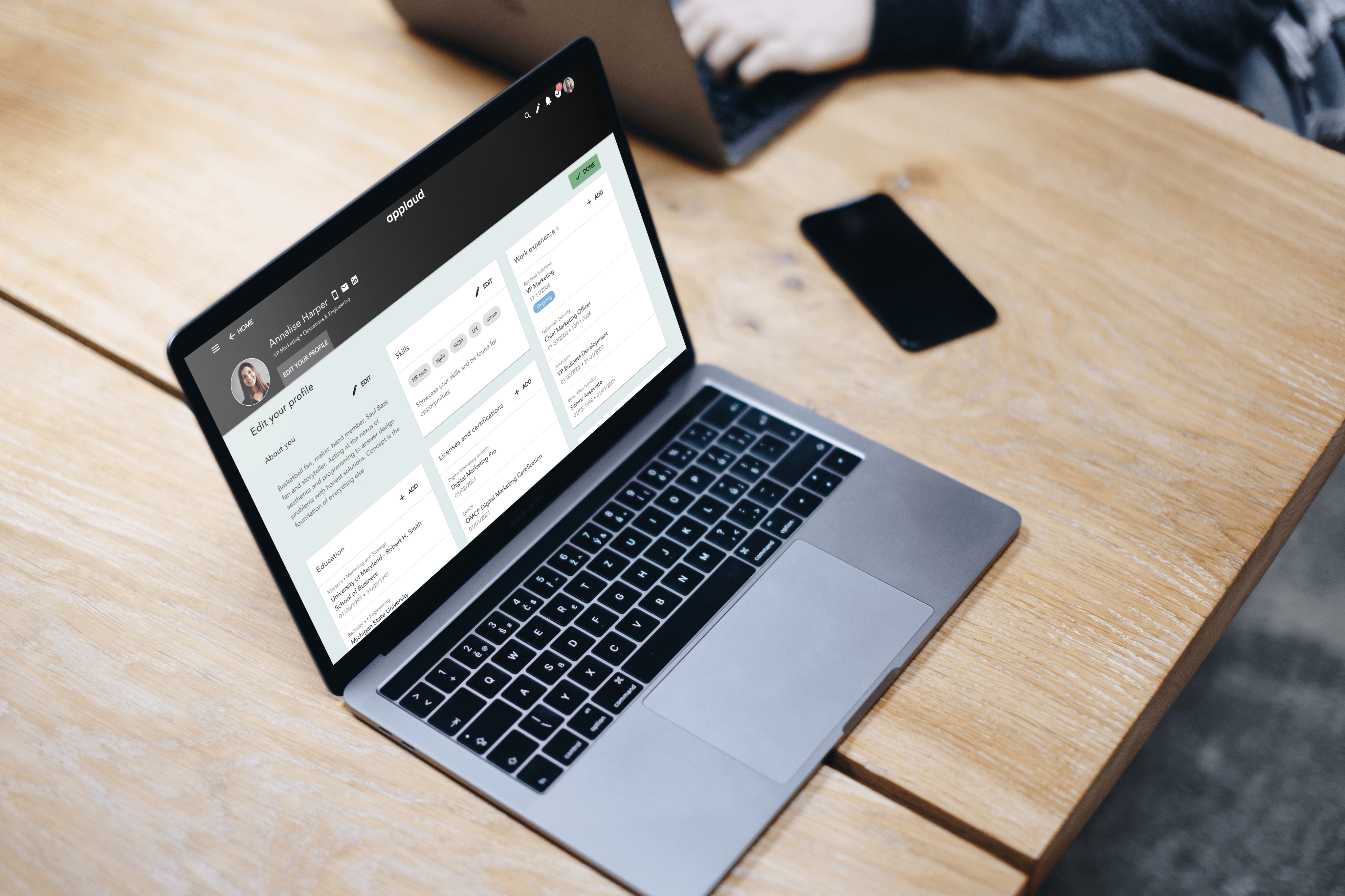 Applaud is famed for its attractive and easy-to-use user interface and invests heavily in bringing the latest consumer technologies into the world of work. Our customers like the mobile-first design, with everything you create in the no-code platform automatically working across all devices and platforms. We're also acutely aware of what UX can and cannot solve, and help our customers prioritize digital experiences that genuinely deliver a return on investment – whether that's time-savings through productivity improvement or digital transformation that saves money through real efficiency gains.
ServiceNow is not a particularly new product, though it's been a success story transitioning from on-premise to cloud (naturally, of course, some customers are still using its on-premise product). This, combined with 15 acquisitions in the last 5 years, brings a level of technical debt. This seeps through into its user experience where it doesn't quite manage the polish of newer products, and has been described as complex, technical, hard-to-use and disjointed. As is often the case for older products, mobile access was retrofitted at a later point.
Integration capabilities
Any EXP should have the ability to unite multiple back-end apps so that enterprises can deliver on their digital transformation promise.
Bundled with Applaud is a no-code Integration Platform-as-a-Service (iPaaS), which is a leader on the 2023 Gartner Magic Quadrant. It gives you access to over a 1,000 connectors for the most used enterprise apps and Applaud have published multiple pre-built integrations that can be drag-and-dropped to accelerate build times. When a connector isn't available or can't handle an edge-case, universal connectors are on-hand to support any flavor of integration (eg, real-time, batch, REST, SOAP, SFTP etc). Applaud also has connectors for a number of other leading iPaaS tools for easier interoperability with incumbent technologies.
ServiceNow has its own low-code iPaaS called Integration Hub and connectors are called Spokes. Each Integration Hub tier offers an increasing number of spokes, with its top-tier Enterprise offering giving access to just over 100 spokes. Integration Hub doesn't have the same level of market adoption as Applaud's iPaaS, and you might find that it's harder-to-use, nuanced in places and requires more technical IT resources to build integrations.
Security and Compliance
Both Applaud and ServiceNow are often selected as a strategic platform that supports a broader long-term employee experience or digital transformation initiative. With an investment of this scale, it's important to pick a vendor that can be trusted to protect its data and meet the toughest of cybersecurity requirements.
Applaud holds multiple ISO certifications, is compliant with GDPR and other data protection legislation, and deploys security best practices, such as regular third party certification and vulnerability testing.
Applaud is built for enterprise organizations and uses a multi-tenant high availability infrastructure built on AWS, with multiple security layers that help ensure a customers' data is always protected. Applaud holds multiple ISO certifications, is compliant with GDPR and other data protection legislation, and deploys security best practices, such as regular third party certification and vulnerability testing. It has multiple platform capabilities that help secure customers' tenants, such as multi-factor single sign-on, roles-based access control and audit trails.
ServiceNow complies with industry standards and regulations, such as GDPR, SOC 2 and ISO 27001, and uses roles-based access control, multi-factor authentications and single sign-on.
ServiceNow takes security and compliance very seriously and has implemented a range of security controls and compliance features to ensure that customer data is protected and regulatory requirements are met. It complies with industry standards and regulations, such as GDPR, SOC 2 and ISO 27001, and uses roles-based access control, multi-factor authentications and single sign-on. It also has a range of compliance reporting, such as audit trails, and a comprehensive vulnerability management program in place.
Piecing it all together
Both Applaud and ServiceNow offer enterprises with a powerful toolkit in an exciting market category. The platform that's right for you will ultimately depend on what you're aiming to solve. If you're looking to improve employee experience and deliver digital transformation fast with a great user experience, Applaud may be a more suitable choice. If you're looking for case management first and foremost, ServiceNow may be a more natural starting point.

Still not sure? Get in touch with our sales team.
Applaud + ServiceNow
Applaud is a dedicated EXP, and SeviceNow is frequently used for IT service management. Given this, many customers choose to use both Applaud and ServiceNow concurrently. Applaud's iPaaS has a ServiceNow connector, which means it's easy to integrate the two together. For example, you could:
Create a portal, knowledge base and tier zero in Applaud that provides a suitable hand-off to HR or IT (e.g. completing a 'contact us' form or using a chatbot) that creates a case in ServiceNow.
Show a list of ServiceNow cases in Applaud via an employee view that shows open and closed cases.
Automatically create ServiceNow tickets from triggers or key dates using Applaud's workflow and integration tooling. For example, create a case to provision IT equipment 7 days before someone starts; create a case 30 days after joining; create a case when someone goes off sick for more than 14 days, etc.
There are many other opportunities to get the combined benefits of both Applaud and ServiceNow.

Have a use-case you'd like to discuss or keen to learn more? Talk to sales.
Want the big picture on Digital Employee Experience?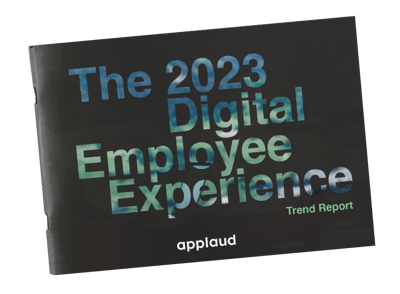 Download the full version of The 2023 DEX Trends Report, with insights from over 200 HR leaders, plus recommendations for the future.