Larry Ellison didn't get his wish.
Back in the early 2000's the mantra from the Oracle CEO was that ERP customers should aspire to having a 'Global Single Instance' – one, integrated system that handled all an organization's business processes: Finance, CRM, HCM and more – all sitting on a single database, talking nicely to each other.
It didn't happen, of course. No vendor was able to deliver an ERP that delivers best-in-class functionality for all applications. In fact, fast forward to today, no one vendor can deliver that even within the HR domain.
Oracle acquisition strategy didn't help either – buying 'best in class' systems, like Taleo, encouraged customers to buy into multiple solutions for their HR needs. Further, established vendors like Oracle and SAP couldn't keep pace with the rapid rise of new Cloud based talent systems like Saba and Cornerstone. Before long, HR Leaders intent on owning best-in-class HR Technology found themselves with a smorgasbord of different HR platforms.
HR Systems in Silos
When I talk to customers today, it's common to find their HCM software portfolio looks something like this: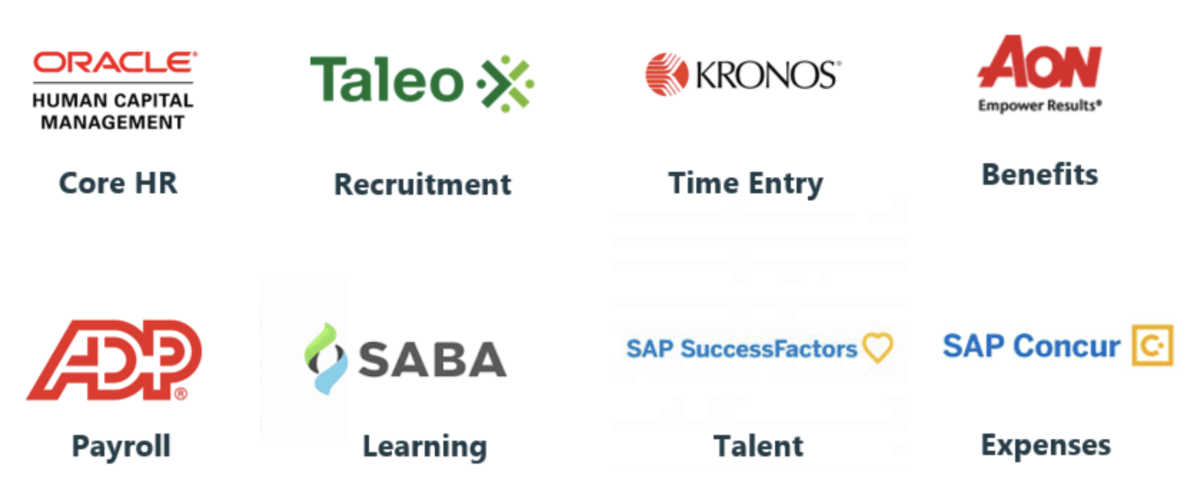 All those systems!
Eight separate logins; different user interfaces to learn; a variety of mobile experiences for a manager to deal with (that's if the solution has mobile access at all); multiple systems to be trained on. The problem is exacerbated when a business process, like onboarding, spans multiple siloed systems, causing inefficiencies and frustration.
At a time when 'positive employee engagement' is top of CHROs' agenda, here we are with shiny new HR Technology having the opposite effect.
Multiple HR Platforms = slow processes with manual intervention
How has this happened?
Let's consider what it looks like to hire into a brand-new role within your business. A typical manager might have to go through the following saga: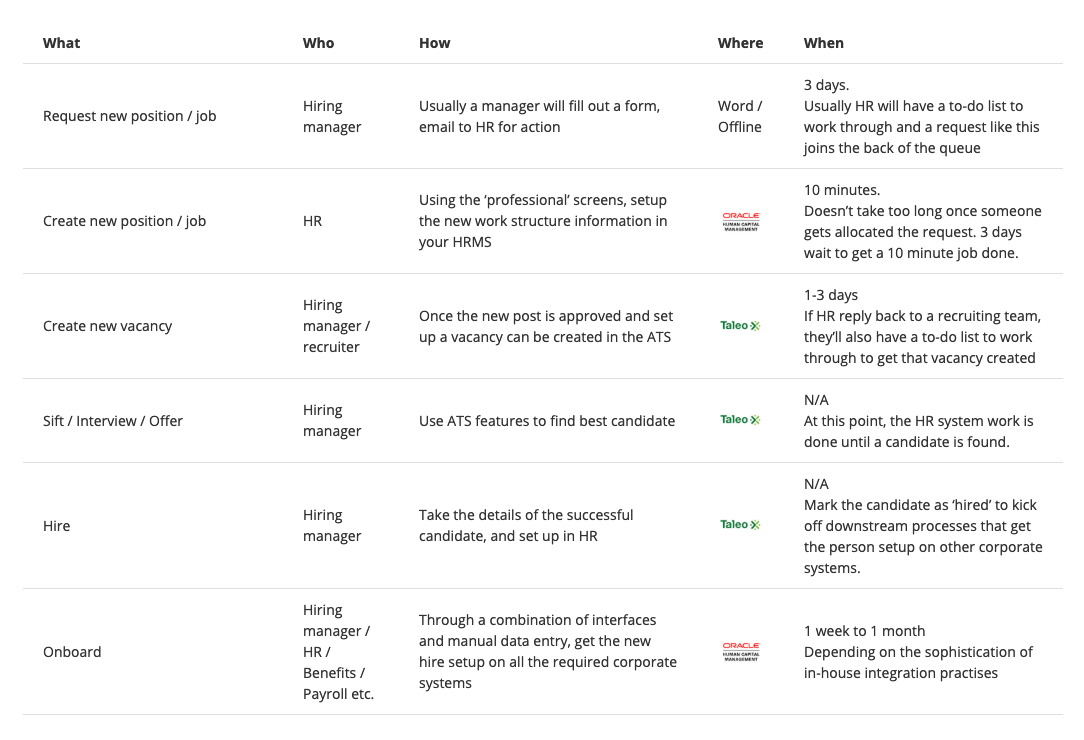 Despite a customer investing in 'best of breed' software, they may still find the critical process of hiring the best candidate is hampered by multiple platforms. Customers report to me the following common problems that slow down this process:
When requesting a new position or vacancy, Managers fail to provide correct details or miss out important information, preventing HR doing the correct work structure set up
No 'cross system' validation in place to prevent bad setup. For example, creating a vacancy in your ATS that is based on a closed position code from your HRMS
Convoluted and confusing process for internal hires; transferring an existing employee into a new role rather than hiring a new applicant can cause a problem with duplicated person records and multiple user accounts
Duplication of person records in the Core HRMS when rehiring an ex-employee
Hiring top talent is one of HR's biggest priorities and challenges right now and yet we still see the disjointed HR Systems mean organizations are
waiting too long between identifying the need of a new hire and advertising the vacancy
facing too much 'back and forth' between Managers and HR, causing delays, cost and frustration
experiencing data duplication and inaccuracies when onboarding new candidates
Much investment has been made into 'interfaces' – technology that automates data transfer from one HR platform to another – but moving data around different systems hasn't solved the above challenges.
It's not just onboarding – HR Is full of disjointed systems and processes
The above onboarding scenario is just one example of a complex process in HR spanning multiple HR Platforms and becoming inefficient as a result. Other examples include:
Transferring workers between business units
Creating a career plan that includes performance objectives and learning paths
Showing a single compensation statement including Benefits, Salary, Vacation allowance and Stock
Giving managers a complete picture of work schedules, time entries and PTO
Consolidating talent information from HRMS, learning, performance & social platforms
Raising a request for help to your HR Service Desk
The solution is not to regress back to the idea of having a single system that does all the above. The systems that companies have in place today are usually good at their primary function, cost a lot of money and don't need replacing.
Instead, there is a move from HR Leaders to invest in technology platforms that allow them to build single page applications which can 'join up' the underpinning HR platforms in play.
The best employee experiences are unified experiences
Take a very simple requirement: a holistic Talent Profile. Think about your organization data for a second. Which systems master your employees'
employment data, like name, email, job and position
goals & objectives
skills and qualifications
performance ratings
learning history
social information, like a bio or previous experience
photo
Where is all that information stored? It's likely scattered across multiple data points.
Using an HR technology platform enables organizations to consolidate information from different systems and display in a single page or mobile experience. An example is below: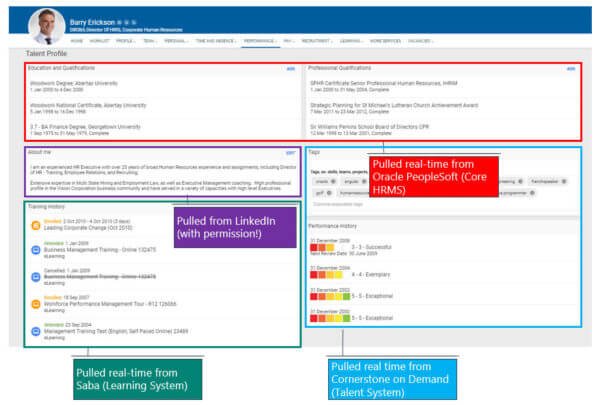 These HR technology platforms are getting increasingly sophisticated and now we are seeing emerging solutions that can handle complex transactional processes like onboarding; create a single page that allows the manager to submit a requisition request in the HRMS, have approval from HR, automatically create the vacancy in the ATS and then move onto the important business of hiring. All on one page, with visibility of approvals, progress and action owners. Accessible on mobile devices as well as at those desk-bound PCs.
What's next?
There are some exciting advances coming down the line to augment current HR Technology: Digital Assistants; Artificial Intelligence & Machine Learning; Cloud based Analytics. All exciting new tech but they alone won't solve the problems of an organization that has built up a portfolio of 10+ HR platforms.
No, the next generation of HR Software will make it easier and quicker for managers to go to a single place, get the data entry right first time and have complete visibility of the progress of their request. They won't have to fill in manual Word documents or wait days for data to transfer between systems so they can proceed to the next step of their process. They'll be able to do everything from one place on any device they like to use whether that be on their PC at work or on their smartphone whilst away from the office. They will get their HR task done faster and more accurately, allowing them time to focus on the job they are being paid to do.
The challenge of making HR Technology user friendly and mobile first is at the top of HR Leaders' agendas and has pushed them to invest in newer, Cloud based systems. Unifying those existing platforms with a single employee-friendly experience is the next step of the journey.
If you'd like to learn more about our work in this area and some of the solutions we're developing to unify employee experiences across HR Platforms, please contact us at products@applaudsolutions.com
Keep up to date with the latest from Applaud in our news section and see what thought-leading outlets have to say about us on our press page.