When we speak to new customers, we ask what HR technology problems they are dealing with. The answer is usually simple something along the lines of:
"When it comes to HR processes, our employees and managers don't know what to do. We have too many calls into our helpdesk, too many emails flying around and it takes too long to achieve anything".
What a simple problem statement! But devilishly difficult to solve when you've got 10 or more HR systems in place.
Business processes that have touch points across multiple systems cause frustration, errors and are slow to complete. Intranet 'link farms' are poorly equipped to help employees find out information, get support or action their HR tasks.
Applaud Cloud was built to solve these problems. Here are 5 features you need to know about.
It's HR Aware
There are many HR software platforms out there that let you build custom pages and can interface into your existing systems.
Applaud Cloud is different. We've spent over 10 years providing employee and manager facing HR solutions for a variety of customers across different industries and geographies. We know our PTO from our Hajj Leave; our Cost Centers from our Departments; our Jobs from our Positions.
Our platform comes with a heap of 'HR Aware' features that accelerate a best practice deployment. We have over 30 'page templates' so you can rapidly deploy pages to support processes like leave, transfers, off-boarding and promotions along with valuable HR components like organization charts, leave calendars and enterprise search.
Employee and manager security comes baked into the tool whilst allowing for roles-based security to be modelled for your HR service desk agents or HR business partners.
With an Applaud deployment, you don't start with a blank sheet of paper and a toolkit, you make a fast start with a best in class workforce experience layer, all ready for you to customise and connect up to your systems of choice.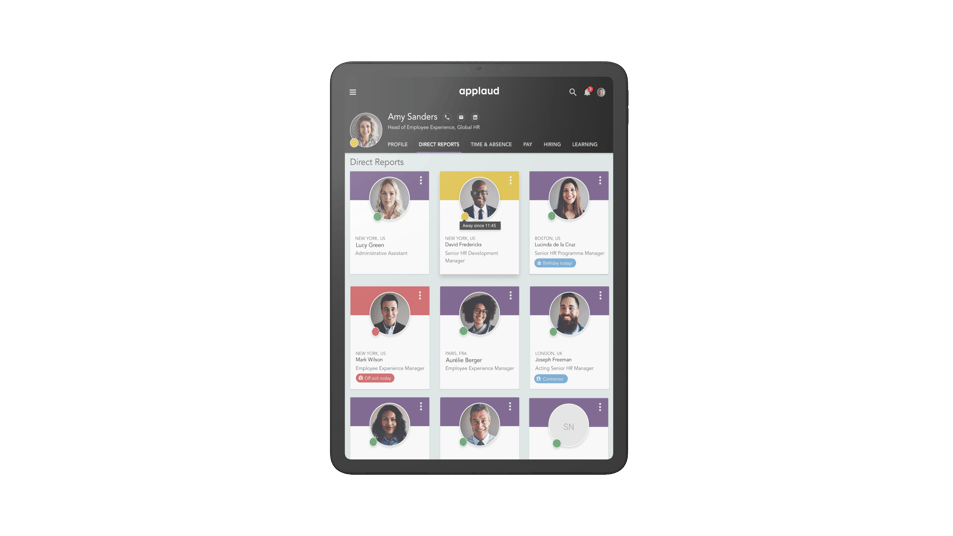 Knowledge is power
Our big lesson from the last few years is that 'form filling' is only half the problem.
A small page with a few fields to complete to indicate you're having a child will still cause a head-scratch if you don't know where to find it or don't know which medical forms to submit into HR.
A pretty, mobile friendly form to transfer an employee is useless if the manager doesn't know what to enter in the field named 'VRS-1 Code (required)' and has to ring up HR to find out.
Most users get stuck not knowing where to find the information they're looking for or understand what data they have to provide to complete a request. Our new HR platform makes it easy to embed personalized, context sensitive help throughout the application. Whether it's long form knowledge base articles, links off to 'how to guides' or in-page help, Applaud Cloud offers multiple ways to support your users through their task journey.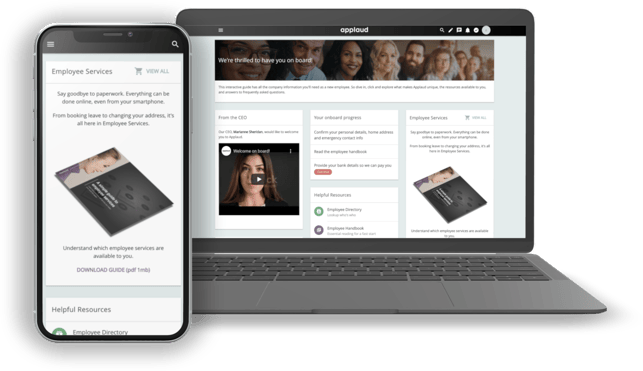 Streamline business processes with task-lists and workflows
Ask a manager to hire a new member of staff and they'll be filling out offline forms, creating new budgets in Core HR and posting vacancies in your ATS. New employees have a bewildering journey around your intranet trying to find out how to get business cards, IT access, security badges and more.
Complex, multi-step business processes cruelly expose the complexities that your multiple HR systems impose on your employees.
Applaud Cloud offers powerful workflow functionality that orchestrates data flows and approvals around your various systems without the user ever having to leave the Applaud interface. Task-lists can be automatically created to support processes that have multiple steps, like making a hire, or multiple touchpoints, like onboarding tasks.
Employees and Managers can keep track of what they need to do, processes flow more efficiently and the need to navigate into multiple systems or fill out offline forms is removed.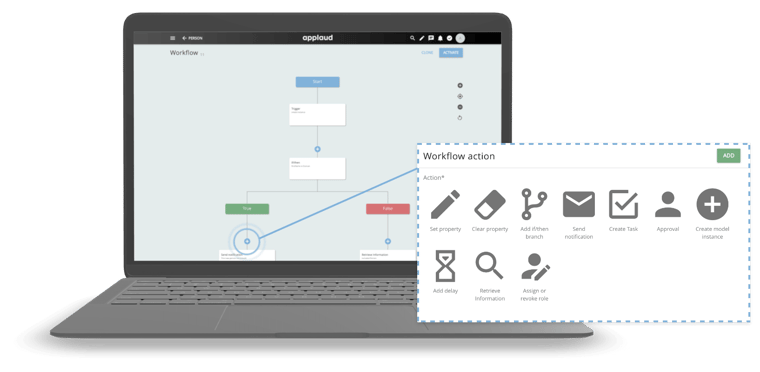 The recent coronavirus has had an unprecedented effect on the business world and HR are on the frontline having to deal with new processes and regulatory changes that have come into play almost overnight. The need for HR to be agile and deliver information to lots of employees, fast, has never come under more scrutiny.
If your organization is global with multiple lines of business, you'll likely be swamped with multiple policies, processes that vary by legislation, regulatory checks and more. Your HR systems need to keep up.
Having to go to your IT team to make any change holds up HR efficiencies and communication, whether that be delivering a new piece of content, making minor design changes or developing a completely new HR service. Applaud Cloud is a strictly no-code platform. New content and services can be deployed to your workforce without the need of technical development or coding experience.
Truly Mobile First
We published our first mobile app for enterprise solutions almost 10 years ago, at a time when Blackberry was still the choice of the Enterprise. Our experience in mobile design and development is deeply entrenched in everything we do.
Applaud Cloud is a true mobile first platform with 100% of features available on smartphones and tablets. Complex components like Org Chart and Calendars all render in mobile-friendly form. Branded mobile apps can be generated and deployed to your end users. Preview what new pages will look like on mobile in both portrait and landscape mode, using our page builder tools.
And that design ethic extends to all our administration screens. Fancy configuring Applaud on the train back home? Go for it, our platform can even be configured on the move.
Want more? Applaud Cloud has many more features to help you make your HR processes more efficient, improve and measure employee experience and save you money supporting your workers.
Applaud Cloud: the next 5 features you need to know about